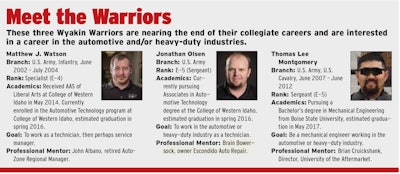 Over the last two-plus years, the heavy-duty aftermarket has gravitated toward supporting the Wyakin Warrior Foundation. Founded to aid wounded military veterans, the Wyakin Warrior Foundation is one of the most respected post-service assistance programs in the United States.
Earlier this year we spoke with Wyakin's Executive Director Todd Monroe about how the program was created, and how it works to assist our American heroes.
Q. Please tell about the creation of the Wyakin Warrior Foundation. How the program was founded, what is your mission statement and goals for your Warriors?
A. The Wyakin Warrior Foundation was established to help 'enable severely wounded and injured post 9/11 veterans achieve personal and professional success as business and community leaders.' The foundation provides multifaceted men- toring, financial support, professional development, and networking tailored to each Warrior's unique journey and goals, culminating in an education and mean- ingful employment. The comprehensive program includes a community service project, completed by each Warrior while in school, to underpin the foundation's focus on these young patriots' strengths over their struggles, and help realize and demonstrate their potential as community role models.
Now in its fifth year, Wyakin Warrior graduation and job placement rates remain strong, and are double the national average for veterans. The USO has named Wyakin "best in class" among their "Battlefield to the Community" partner programs. National branding and support continues to build with noteworthy partnerships. Wyakin relies on these critical relationships, such as with the heavy-duty aftermarket, to deliver its core mission on behalf of the growing number of Wyakin Warriors; and to help provide a strong and professional source of veteran employees to the heavy-duty industry—a win-win relationship grounded in service.
Q. How are Warriors chosen for the pro- gram (application requirements, etc.)?
A. More than 51,000 troops have been seriously hurt in the combat zone since 9/11. Some are forced to leave the service right away because of their injuries, but eventually they all come home. When they do, they face the most dismal unemployment rates in the nation.
Their only training—military training—does not apply any more. They are left to chart their own courses while dealing with the challenges that come with severe injuries (blindness, loss of limb, spinal injuries, post-traumatic stress dis- order, traumatic brain injury, etc.). They have the motivation to succeed, but lack the tools and training to do so.
The Wyakin Warrior Foundation provides both through its Wyakin Academies. Acceptance is not dependent on academic excellence or status of benefits. Each Wyakin Warrior is accepted for his or her character, motivation, need, and readiness—determined by application and records review, references, and interview. The number of Warriors accepted is dependent upon resources available. Before inducting a veteran into the program, Wyakin identifies enough funding to commit to each veteran for up to five years/60 months of support, approximately $25,000 per Wyakin Warrior.
Q. How are the funds allocated to the Warriors?
Funds are allocated in many areas.
Education/Financial Assistance: Provides educational support for severely wounded, injured or ill veterans that includes cash assistance for such things as room, board, books, tutoring, and living expenses. Our program provides benefits beyond what the VA provides to help meet the wounded veteran's financial needs, and remove obstacles to achieve educational success. Retention, graduation, and job placement rates remain over twice the national average for veterans.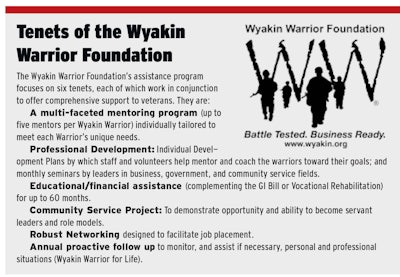 Multifaceted Mentorship Program: Each Wyakin Warrior is provided up to five volunteer mentors at three different levels: campus, local, and national/professional, consisting of students, local community leaders and nationally recognized leaders in their fields. Each Wyakin Warrior is contacted at least weekly by mentors, staff, and/or other volunteers. More than 300 volunteers have been screened and trained. Mentors are contacted monthly to monitor satisfaction.
Professional Development Program: The ultimate goal of the program is for its graduates to find successful careers. To that end, the Professional Development Program provides monthly professional development seminars, networking, career planning, and job interview preparation. Individual Development Plans by which staff and volunteers help mentor and coach the warriors toward their goals; and the monthly seminars by leaders in business, government, and community service fields are at the professional development program core. Warriors also are required to complete a service project while they are in school to give back to the community. After graduation, the professional develop- ment program continues to keep in touch proactively with its alumni to monitor progress. The Wyakin Warrior Foundation has a 100 percent placement of graduates thus far. Seminar speakers have ranged from the political leaders to CEO's to celebrities, including experts in social skills and business interaction.
Q. How can we help? How can the after- market assist or donate to the Wyakin Warrior Foundation?
A. The need for the Wyakin program is great.
A white paper titled Veteran Stereotypes: A Closer Look from the Office of the Chairman of the Joint Chiefs of Staff last October noted 'Each year for the next five years, more than 200,000 service members will transition from active duty to the civilian community. Many of them will face significant challenges as they reintegrate back into civilian society.'
The most severely wounded, injured or ill young veterans will face the most daunting challenges. Many proud Americans want to help, but don't know how. Supporting the education and job placement mission of the Wyakin Warrior Foundation offers a profound way to help. Your support will make a lasting positive difference in the lives of our young veterans and their families.
To donate, or for more information about the Wyakin Warrior Founda- tion, please visit www.wyakin.org, call 888-WyakinW or 208-853-6001, or e-mail info@wyakin.org