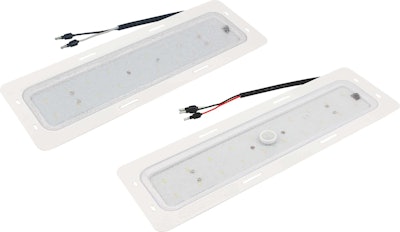 Phillips Industries has released brighter and more efficient trailer dome lamps, with or without motion sensors, for commercial trailers.
The Phillips PERMALITE XB LED high-efficiency trailer dome lamps are up to two times brighter than competitive lights, with 20 LEDs and 2200 lumens, the company says. The new lamps are multi-volt allowing them to run on a 12 or 24-volt system, and offer consistent lamp light output throughout the voltage range. With its slim, lightweight design and universal mounting holes, the PERMALITE XB LED high-efficiency dome lamps fit most applications.
Additionally, Phillips Industries says these new dome lamps feature a strong aluminum housing with powder coated finish and clear polycarbonate lens. They are designed to work in extreme temperatures of -40°F to 176°F (-40°C to 80°C) and a silicone seal protects components under the lens from moisture build up. Male .180 bullet connectors have been added to the 14 gauge wires for easier installation. The 14 gauge wires are also protected by an additional layer of STA-DRY jacketing to guard against corrosion, the company says.
The PERMALITE XB LED high-efficiency dome lamp with a PIR motion sensor automatically controls the on/off function. The passive infrared (PIR) motion sensor feature turns on the dome lamp when activity within a range of approximately 16 ft. and an angle of 100 degrees is detected. The lamp will automatically shut off after five minutes of inactivity, the company says.