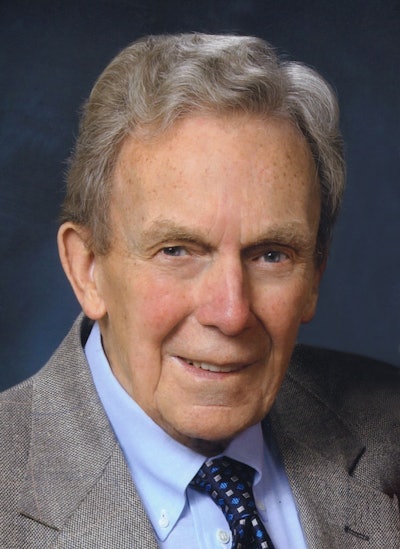 William Michael Betts III, longtime leader of Betts Company, died last Sunday at the age of 89.
Betts was born on March 17, 1927 in Oakland. Betts grew up in Berkeley and attended Berkeley High School. He was an exceptional athlete who excelled as a team leader and star player in football and track.
Following high school, Bill attended the University of California, Berkeley, where he was a member of the Phi Delta Theta Fraternity. His studies at Cal were interrupted by World War II, when he enlisted in the United States Coast Guard. He returned to Cal after the war and met the love of his life, Mary Jane Gallagher. They married in 1950 and resided in Piedmont for 66 years. They raised three children, Mimi Devany (Don), Margie Mordaunt (Mike) and Michael Betts (Cheri).
Betts was admired and respected by the community where he lived and worked. He was a role model who led by example, and his appreciation and respect for his employees was unprecedented, as he considered them his second family. He was a gentleman with a kind heart, a loyal friend, and an all-around great guy.
As an entrepreneur and business owner, Bill led one of California's oldest and most successful family-owned manufacturing businesses, Betts Spring Company. Presently celebrating its 148th year, the company was founded in 1868 in San Francisco by Bill's great-grandfather, William. Betts Spring Company remains one of the oldest family owned businesses in the state of California.
Also an inventor, Betts was well-known for his many innovations in the spring industry. In 1956, he invented the first mud flap holder for heavy-duty trucks. Today his products continue to be sold worldwide. He was nationally recognized in the spring industry, serving as a national board member for the Spring Manufacturer's Institute and the West Coast Spring Manufacturers.
Betts was a member of Claremont Country Club and the Olympic Club. He enjoyed golf, tennis, dominoes, and fishing trips with his lifelong friends. He loved spending time with his family in Piedmont and Carmel Valley.
Betts will be fondly remembered for his love of life, integrity, loyalty and sense of humor. He modelled perseverance and hard work through his actions. Above all, his life was characterized by his devotion to his family, who consider themselves blessed to have had such a great man in their lives and will remember him as a loving husband, father, grandfather and great-grandfather.
Betts is survived by his wife of 66 years, Mary Jane, his three children, eight grandchildren and 15 great-grandchildren. A special thank you to Talli and Pauline, Betts' caregivers, who provided him with much love and support. In lieu of flowers, the family requests that donations be made in Bill's name to Sutter Care at Home Hospice, 2855 Telegraph Ave. #610, Berkeley, CA 94705. Services and committal will be private.