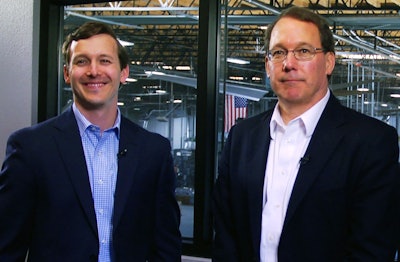 Betts Company has been named president and chief operating officer, the company announced Tuesday.
Mike Betts, formerly president of Betts Company, will actively continue in the business as chairman of the board of directors and chief executive officer.
"This is a proud day for our family and our company," says Mike Betts.
"I am humbled and grateful for the confidence and trust placed in me today," says Bill Betts. "Leading Betts Company has been a lifelong goal and I am excited by the opportunity to help Betts pursue its next phase of growth and excellence. I have great respect and appreciation for every associate who has played a part in the history of our company and look forward to serving them in the years to come."
With this appointment Bill Betts becomes Betts Company' the seventh president since its founding by William Michael Betts in San Francisco, Calif. in 1868. Betts Company has been owned and led by members of the Betts family without interruption throughout its 147 year history. In addition to Mike and Bill Betts, Don Devany (senior vice president, Betts Company), Joe Devany (director of operations, Betts Spring Manufacturing and BettsHD) and John Devany (sales manager, Betts Truck Parts and Service) are Betts family members actively involved in leadership of this six generation family business.
"Like all leaders at Betts Company, Bill has earned this opportunity by his passionate commitment to our associates, customers and suppliers," says Mike Betts. "He is an excellent example of living our Seven Core Values and embodies 'Improving the Way Things Move.'  Bill's appointment provides all Betts Company team members – past and present – an opportunity to reflect on the very special accomplishment of sustaining and growing a family business for nearly one hundred and fifty years."
Bill Betts joined Betts Company in June, 2007 after a successful two year stint with Protiviti Inc., an international risk and business consulting firm, and has held varied leadership positions during his tenure with Betts Company, including procurement, sales, marketing, customer support, strategic planning and project management. In his new role, he will have primary responsibility for Betts Company's three business units and development of overall strategic direction.
Bill Betts is board member of GenNext, the heavy-duty aftermarket's newest group formed to educate, mentor and recruit the next generation of aftermarket leaders. In addition, he is actively involved in YPO (Young President's Organization), San Joaquin Valley Chapter and is a board member with Boys & Girls Club of Fresno County. He is certified in Production and Inventory Management (CPIM) through the Association for Operations Management (APICS) and a member of the APICS, San Joaquin Chapter.
Mike Betts has been the president of Betts Company since 1995, having held numerous positions in sales, marketing, innovation and leadership with the company for over 37 years.
In his new role, Mike Betts will continue to provide guidance and support to Betts Company's leadership team. In addition he will focus on activities which favorably impact industries, markets and communities important to Betts Company Mike is involved in many industry and civic organizations, including his role as vice president of Spring Manufacturers Institute (SMI).