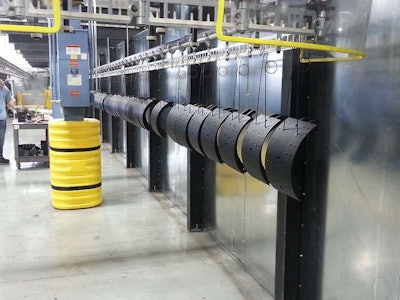 Bendix Commercial Vehicle Systems' remanufactured brake shoe operation has topped the 4-million-unit production milestone, the company says.
Bendix's rate of production has steadily increased to meet growing demand from fleets and owner-operators.
Bendix began serial production of reman brake shoes at its 74,000-sq. ft. Huntington, Ind., facility in the fall of 2012.
The facility handles the complete salvage, coining, and assembly processes that make up start-to-finish brake shoe remanufacturing in Huntington.
"The National Highway Traffic Safety Administration's RSD mandate, which took full effect in 2013, ushered in a new era of stopping requirements (under FMVSS-121) for drum brakes. In servicing these brakes, more and more vehicle operators are choosing RSD-compliant remanufactured shoes from a trusted original equipment supplier to preserve that high level of safety," says Keith McComsey, Bendix director of wheel-end marketing and customer solutions.
"Bendix achieves OE quality in our reman brake shoes by bringing them back to full OE specifications, rather than just relining them. Shoes remanufactured in this way deliver the durability, reliability, safety, performance, and extended lining life expected of original equipment – and needed for operators to compete in today's industry."