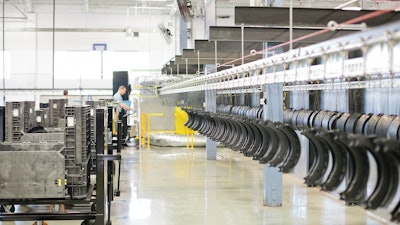 Bendix Commercial Vehicle Systems recently hit a production milestone, producing its 10 millionth remanufactured brake shoe.
"We've got 40-plus years [of] experience in remanufacturing, combined with decades of brake manufacturing leadership, so it's no surprise that professionals across North America have come to expect the best from Bendix remanufactured brake shoes," says Mark Holley, director of marketing and customer solutions, Wheel-End. "With Bendix, you're not just getting a shoe that's been cleaned up and had new friction attached: We return brake shoes to their original equipment (OE) specifications, so they'll perform to safety and compliance standards while offering the cost advantages that come with choosing reman components."
Bendix handles the complete salvage, coining, and assembly processes that make up start-to-finish brake shoe remanufacturing at its Huntington, Ind., facility.
Opened in 2012 and significantly expanded in 2014 to more than 74,000 sq.-ft., the Bendix Remanufactured Shoe Center is part of the bustling multisite Bendix manufacturing campus in Huntington.
Bendix coins 100 percent of its brake shoes to return them to OE geometry, so they will perform as designed by OE engineers. In doing so, the company stands apart from brake shoe reliners, which make up the majority of reman brake shoe producers. Coining is a crucial step that corrects deformities caused by force and temperature changes during a shoe's previous service life that can leave it "twisted," and prevent it from making full contact at the anchor pins and/or in the roller pockets at the S-cam, Bendix says.
"Without this step, an uncoined reman brake shoe will not have the correct geometry and may not provide full drum contact, resulting in unpredictable brake performance and uneven wear – regardless of whether it is relined with new friction," Holley adds. "Uncoined reman shoes may even pose problems with reinstallation of the drum."
High-quality coatings provide superior protection against rustjacking and reduce the risk of cracked friction. Bendix reman shoes with OE friction are E-coated (electro deposition), and shoes equipped with Bendix Advanced or Basic friction feature Bendix PermaGuard coating. Finally, the assembly process uses the same riveting procedure employed for new Bendix OE shoes, ensuring correct lining attachment for maximum lining service life, the company adds.
[RELATED: Rustjacking and remanufacturing]
"At Bendix, our focus is listening to our customers and meeting their needs, and it's clear what they require in a reman brake shoe," Holley says. "Every step of our remanufacturing process is focused on addressing those needs and providing equipment that keeps drivers safe and trucks on the road."
Companywide, Bendix's remanufacturing efforts also include air compressors, air dryers, steering gears, air disc brake calipers, and electronic control system components.