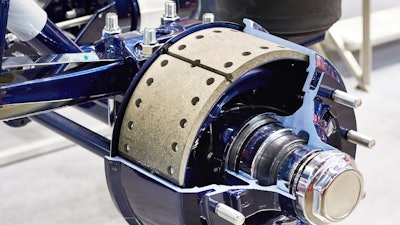 Once rustjacking has taken hold, affected brake shoes will need to be replaced because you can't remove the rust or undo damage to the friction. Bendix recommends replacement with new or remanufactured brake shoes.
"In the case of reman shoes, take care to look for truly remanufactured components, not just relined shoes. A true shoe remanufacturer like Bendix re-coins shoes to their original geometry and applies new protective coating. Simply putting new friction on and possibly repainting an old shoe — these are often sold as 'rebuilt' — doesn't guarantee that it will perform to OE standards," says Mark Holley, director of marketing and customer solutions, wheel-end, Bendix Commercial Vehicle Systems
Jay Pagano, industry veteran and brake systems expert for Global Parts Network, part of the VIPAR Heavy Duty Family of Companies, explains proper steps for remanufacturing brake shoes, including those that may be affected by rustjacking.
"Global Parts Network has a process where we clean, coin, coat and cure. It defines our 15-step process, and these are the measures we use as differentiators in the marketplace to say, 'OK this is what we do to ensure this shoe is going to live the lifecycle of your expectation without failing prematurely.'"
Pagano says following a visual inspection of each shoe and removal of the friction, the shoes or cores, go through a high-temperature wash cycle to remove all the grease, grime and road chemicals. Then shot blasting equipment is used to further clean the shoe, getting rid of any additional rust, slag, debris and paint.
[Related: The Battle with rustjacking]
"Now we are down to bare metal on the shoe, and this is where we can really see all the imperfections [during] another visual inspection. In the event excessive pitting is identified, the shoe is rejected. You don't want excessive pitting in there because that's a spot where moisture and deicing contaminants can reside — it's just a pocket where rusting can begin. The shoe is then passed on to the next step where we are coining the shoes," Pagano says.
He says coining is a process involving 1,000-ton presses that correct the geometry and imperfections of the shoe to ensure it meets the original equipment specifications.
"That doesn't mean we can save all the shoes. After the coining press, the shoe gets gauged to ensure proper shoe geometry. Then it's another quality control check and if the shoe geometry and table are not within spec it could be discarded," Pagano says.
Next the shoes go through a pre-treatment washing station where chemicals are sprayed to remove any residual chemicals not previously removed prior to coating.
"Again, there are visual inspections along the way. An operator can pull a shoe off the line at any time. Obviously, we want to pull them off as early in the process as possible so we're not adding additional labor or process costs to a shoe that's going to get rejected at the end of the line," he says.
Pagano says the shoes then go through a coating procedure by way of a dipping system where shoes are completely submerged. This is not a regular everyday paint — these are advanced coating products. The procedure ends with curing the coating on the shoe.
Once a shoe has gone through the remanufacturing process, the final steps are to rivet brake lining to the shoe and perform torque testing to round out the process before packaging.
"What is important is the shoe table is flat as possible and the geometry is correct. If it's flat there will be very little space for moisture to reside and getting the lining clinched onto the table at the right torque settings keeps that lining tight to the table, which doesn't allow moisture to get in. There are a lot of factors you have to get right, however our process significantly diminishes the possibility of rustjacking," Pagano says.