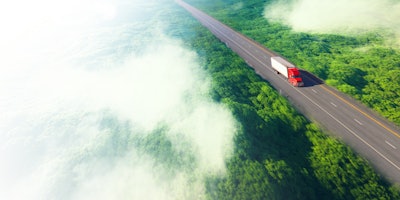 Aperia Technologies announced Tuesday the Environmental Protection Agency (EPA) and National Highway Traffic Safety Administration (NHTSA) have issued off-cycle greenhouse gas (GHG) credit for the use of its automatic tire inflation system (ATIS) technology used in medium and heavy-duty applications, including tractors, regional vocational vehicles, and custom chassis coach buses & motor homes.
Aperia says manufacturers will now earn input credit for overall fuel consumption for the thousands of clients already specifying the company's Halo Tire Inflator on drive tires.
"Environmentally sustainable fleet management is at the heart of what we do at Aperia, and we could not be happier that the EPA is recognizing the tremendous value our ATIS technology has in decreasing overall fuel consumption and CO2 emissions for commercial fleets," says Josh Carter, CEO, Aperia Technologies.
As stated on the EPA's website regarding Phase 2 Greenhouse Gas Emissions Standards and Fuel Efficiency Standards for Medium- and Heavy-Duty Engines and Vehicles, "The final phase two program promotes a new generation of cleaner, more fuel-efficient trucks by encouraging the development and deployment of new and advanced cost-effective technologies."
The Halo Tire Inflator is the recipient of the EPA's Clean Air Excellence Award, the agency's highest national award to honor a project's impact, innovation, and replicability in improving the nation's air quality. Halo installs in minutes and is currently specified on nearly ten percent of all new tractors built in North America, the company says.
As part of the company's application for off-cycle credit, Aperia Technologies submitted data from both Halo-equipped trucks and trucks equipped with tire pressure monitoring systems (TPMS) that spanned 12 months, 2.4 billion miles, and 10,974 tires. The findings showed that tires equipped with TPMS were on average 6.9 psi lower than the tires on trucks equipped with Halo ATIS in drive-only position.
"Our study highlights the unrealistic burden that manual tire pressure management places on drivers and maintenance teams and also explains why fleets overwhelmingly prefer automated tire management solutions to the alert-only approach delivered by TPMS," says Carter.