Volvo Trucks North America
As hybrid and electric truck adoption rates continue to grow, dealers and aftermarket operations soon will be exposed to a lot of unfamiliar systems and technologies they'll be expected to maintain. One of those innovations is regenerative braking.
Regenerative braking captures kinetic energy created during a braking event and converts that energy into electricity, which is then routed through an electric motor into a vehicle's batteries, extending their range. Regenerative braking is standard in hybrid and electric automobiles and, as North America's medium- and heavy-duty OEMs continue to roll out their first-generation electric models, the technology is starting to spread across trucking.
Knowing how regenerative braking applications work will soon be vital for parts and service operators.
Ameya S. Jathar, senior director of engineering, Meritor, says understanding regenerative braking starts with a truck's foundation brakes. In internal combustion engine (ICE) diesel-powered trucks dominating today's Class 8 landscape, braking is achieved through the application of torque to wheel ends. When a driver steps on a brake pedal in a diesel truck, he engages brake shoes or pads lined with friction material that meet the foundation brake, converting the kinetic energy in the wheel end into heat that is absorbed by the friction material to stop the truck.
Hybrid and electric trucks also have foundation brakes, but they don't act as the sole method for stopping a vehicle. "With EVs, braking torque is supplied with motors using drive inverters," Jathar says.
Dana's Jeremy Frenznick, senior director of engineering, elaborates.
Unlike ICE-powered vehicles, which move using energy generated within an engine and transferred through a driveline and axles to wheel ends, Frenznick says electric vehicles are propelled forward by electric motors installed within a driveline or axle and powered by energy stored in the vehicle's batteries. When equipped for regenerative braking, these motors have the capability to not only push electricity outward but also to pull it back in.
[RELATED: Freightliner reveals new eCascadia tractor]
"In an EV, the battery powers the motor, but the battery also can act as a power absorber," Frenznick says. "So rather than an ICE where you use a friction brake to scrub off speed and turn kinetic energy into heat, in an EV you capture that energy and bring it back into the batteries."
"We sometimes call it 'free fuel' or 'found fuel,'" says Andy Brown, product marketing manager, electromobility, Volvo Trucks North America. "Because in a regen that's essentially what's happening; you are reversing the polarity inside the electric motor so it acts as a generator and routes that energy [as electricity] back to the battery."
When properly implemented in optimal duty cycles, Brown says Volvo estimates its VNR Electric can recapture up to 15 percent of energy through regenerative braking. And while regenerative braking is not an essential system within an EV — an electric truck can function solely on conventional foundation brakes — many applications where EV adoption rates are highest also offer the most regenerative braking opportunities. This includes refuse, pickup and delivery, city buses and more.
"If you're doing a lot of stopping and starting, that's going to give you more opportunities to conduct a regen," says Bendix's Richard Beyer, vice president, engineering and R&D.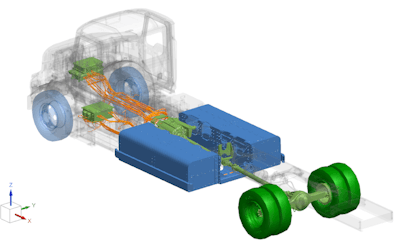 "My guess is as EV adoption grows, every truck is going to have regenerative braking," says Frenznick. "They won't all use it the same way — the value isn't the same for every application — but the technology will be there."
And with EV charging infrastructure improving but still woefully unavailable nationwide, the ability to find energy and meet or exceed vehicle range capabilities is invaluable.
Echoing Brown, Jathar says Meritor has conducted 1.7 million miles on its testing fleet of 200 EVs and reports 12 to 15 percent energy gains through regenerative braking. "The more energy we can recover, the better that is for a driver," he says.
[RELATED: Karmak CEO Jim Allen's unique approach to customer service and engagement]
Beyer says regional and long-haul applications, particularly across rugged terrain, likely will be the last segment of the trucking sector to transition to EVs and will see the smallest benefits of regenerative braking range optimization.
He attributes routes as one reason. A truck that rarely stops has limited regen opportunities. But Beyer also notes most electric motors distribute power at a higher rate than they receive it, which means in high-grade mountainous areas, regenerative braking alone may not be enough to slow a vehicle at a safe rate. In these instances, foundation brakes will still be called upon to work with regenerative braking to safely decelerate a vehicle.
Beyer adds Bendix has developed brake blending technology for these applications, which pairs stopping solutions seamlessly so drivers receive a steady, consistent braking event no matter when and where they need to slow down.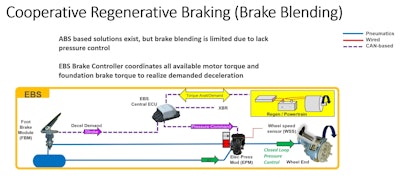 "If you're a driver, you shouldn't have to care where deceleration is coming from," he says.
Frenznick also notes regenerative braking does not have to be conducted equally in all applications. Electric motors can be set to offer various levels of regenerative braking capacity based on duty cycle optimization or customer request.
"There's a big difference between 30 percent regenerative braking and 100 percent," he says, adding Dana recommends customers new to the technology test drive its training vehicles to understand the differences in braking performance and driver experience across regen settings.
Jathar notes Meritor's testing indicates many drivers prefer its most aggressive regen setting because it reduces driver fatigue over time, but also admits it takes some getting used to.
"It's a different braking experience than an ICE," he says.
Regenerative braking offers maintenance benefits too, mostly by extending service intervals. Jathar says the technology doesn't reduce the number of components in a wheel end, but it does reduce the instances they are engaged and the severity of their application. Regenerative braking makes 'single-pedal driving' a reality.
"We can enable a vehicle to go from highway speed to almost stopped just on a regen braking," Jathar says. "Foundation brakes are only required for the last few miles per hour to come to a complete stop."
"What will separate the good from the great drivers is how they treat regenerative braking," says Brown. "The drivers who really understand it may rarely if ever have to use their service brakes."
Regenerative braking also can help power trailer applications. Carrier and ConMet announced a strategic partnership in January to use regenerative braking with ConMet's eHub electric wheel end to support trailer refrigeration units.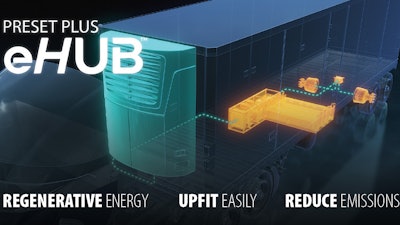 Marc Trahand, ConMet vice president and general manager, eMobility business unit, says ConMet's eHub system works like tractor regenerative braking applications, with an electric motor built into the wheel end to convert captured energy from coasting and braking events into electricity that can be routed directly into a reefer unit. For reefers also equipped with shore power charging capabilities (plugging into a facility during a loading event), Trahand says wheel end electrification is another step toward reducing a trailer's reliance on tractor power to function.
"We are trying to produce a zero-emission trailer through electrification," he says.
[RELATED: Hyzon Motors plans to accelerate decarbonization]
The power generation potential of electrified trailer wheel ends also are contingent on duty cycle, though trailers require substantially fewer braking events to acquire enough energy to power a reefer unit. For instances in which electricity created in a wheel end surpasses a reefer's needs, additional electricity can be leveraged to help propel the trailer forward. Trahand says such innovation could become essential as municipalities globally propose zero-emission requirements for vehicles.
"Future applications could become smarter and capable of changing their modes based on telematics and GPS locations … so when you would enter a city the unit would switch to a mode that is pure zero emissions," he says.
Brown adds regenerative braking's ability to reduce emissions should not be overlooked. With more OEMs and their customers committing to corporate carbon zero goals in the decades ahead, regenerative braking and similar technologies will become essential solutions for all commercial vehicles.
"In order for us to achieve our goals, we have to commit to an evolution of our product line," he says.