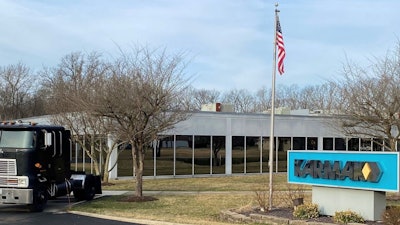 They say you don't really know someone until you've walked a mile in their shoes. But what if they're a trucker? Can you learn about a trucker's life by driving a few miles from their seat?
You probably can't learn everything, but you can learn a lot by logging a fair bit of miles behind the wheel of Class 8 truck to realize how challenging driving and owning a truck can be. A lot of joy can be found on the open road in the catbird seat of a heavy-duty rig. Unfortunately, so can a lot of frustration.
Being a truck driver is a difficult yet rewarding career. The obvious stress of driving every day, managing loads, hitting delivery deadlines, complying with regulations and maintaining equipment make driving a truck an exhausting, full-time job.
Jim Allen knew about all those challenges. But what he didn't know was how truckers manage them. How do they get through each day balancing so many responsibilities and obligations? What do they do on their own and when can they rely on partners? It was those unanswered questions and a natural curiosity that motivated Allen — who has his own full-time job as president and CEO of Karmak — to go out and buy his own truck last year.
Allen isn't making a career move. He doesn't plan to run a St. Louis to Kansas City route on weekends. But as the leader of a business solutions company serving the dealer and aftermarket channels, Allen realized everything his company does has an impact on truck drivers. Karmak's management systems are built to streamline business operations for companies that serve truck owners every day, which means the stronger Karmak's products are, the more they can do to support the hardworking people behind North America's trucking fleet.
[RELATED: It's time to nominate your business for Distributor of the Year or Successful Dealer Awards]
And while Allen's decision to buy a 1991 International 9670 cabover was a personal one, his goal as one of trucking's newest CDL holders is two-fold: The more he can immerse himself in the trucking industry the better he can communicate with Karmak customers; and by driving several miles in a trucker's chair, Allen believes he can help identify areas where Karmak's solutions can better aid dealers and aftermarket operators in supporting truck owners.
"I've always been someone who, when I become curious about something, I can't let it go until I do something about it," he says. "Since moving into the CEO role I have really wanted to immerse myself in this industry and learn as much as I can about it."
He adds, "The trucking industry is so vitally important to all of us … if there's something I can learn that can make dealerships and service shops more efficient, that's going to have an impact on the rest of the industry."
Allen says he doesn't remember when the idea to buy a truck first hit him but does remember once it was in his mind it wouldn't go away. Early last year he was spending hours online reading about trucking, scouring listing sites and imagining what it would be like behind the wheel of a real rig. "It wouldn't run its course," he says. "It kept bothering me and I kept thinking about it so eventually I decided to go for it."
He announced his desire to buy a truck at Karmak's 2021 user's conference. Within minutes, Karmak dealers were coming up to him offering their assistance to find him the right make and model. "I was loving that vibe. That customers wanted to help me with this," Allen says.
Wiers International President Drew Hettich tracked down Allen's eventual ride not long after.
"He called me and said he thought he'd found it and volunteered to go look at it since it was 20 miles from his house," Allen says. "It was a weekend, and he and one of his service technicians went and checked it out then he called me back and said they thought it was a good deal."
[RELATED: New Overdrive survey details small fleet and driver purchase preferences]
But why a cabover? Allen says the more time he spent looking at equipment, the more he was drawn to the iconic style.
"I was brand agnostic from the start. I just knew I wanted a classic truck," he says. "At some point I got it in my head that cabovers were cool. Suddenly I was following cabover culture on Instagram and realized that's what I wanted."
Allen bought the truck over the phone that day and it was sent to Wiers' nearest location soon after for a full-service exam, PM, DOT inspection, cleaning and more. "They used [Karmak] Fusion so I got my invoices automatically through email and when that first one came through, I thought that was the coolest thing ever," Allen says.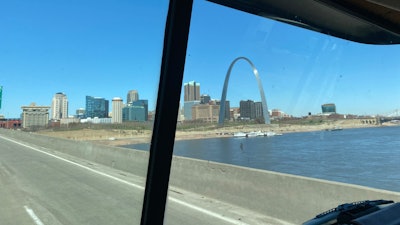 The truck spent most of the winter stored at Karmak customer CIT Trucks' Troy, Ill., location, while Allen completed all necessary FMCSA paperwork and registration and earned his CDL, which he happily says he passed on his first try. And in March, he moved the truck to a local garage two blocks from his St. Louis home where he can continue detailing and updating the truck.
Though he hasn't decided on a final exterior, Allen says he'd like to partner with a local charitable organization or veteran's group and wrap or paint the truck to promote a community group. He also plans to take it to local parades, community festivals and other events throughout the summer. (Update: Allen had the truck wrapped in late April. See below.)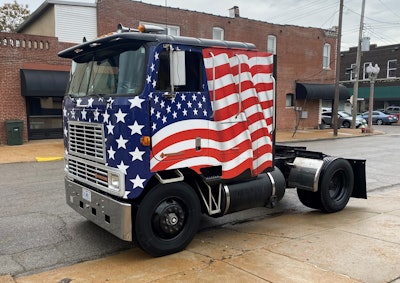 And while he's driven it to Karmak's headquarters in Carlinville, Ill., once, Allen says his new rig isn't a corporate vehicle. It's his purchase and his way of better understanding and connecting with the trucking community.
He's already learned a lot about just how much work (and money) it takes to get a truck on the road.
"The general cost of everything is so, so much more than an automobile," he says. "It's not like a car where you can just get in and drive it. There are pre-trip inspections; you have to log miles. It's a lot to do."
Allen says his ownership of the truck has given him an even deeper appreciation for drivers and owner-operators. As he continues driving and maintaining it, he's optimistic he'll uncover obstacles that Karmak may indirectly be able to resolve. And though Allen has no intention of actually hauling freight (at least not yet, he says), his brief time as a truck owner has already further illuminated how exhausting downtime can be.
"The bottom line is when these [trucks] are parked they're not making the customer any money," he says. "Where can I find efficiencies in any step? How can we do anything to better keep trucks rolling? If I can find a way to pick up five minutes [of uptime], that can make a difference … Sometimes a big win is a lot of little wins."