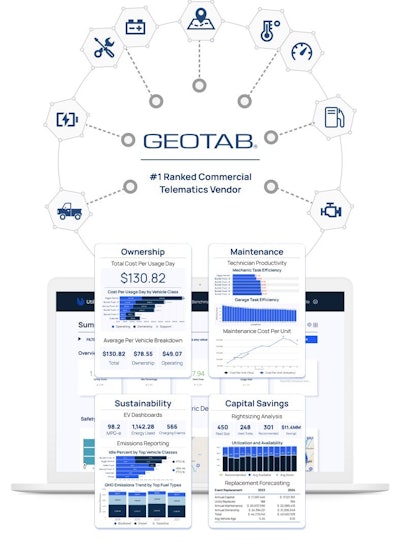 Utilimarc has announced its partnership with Geotab, in which Utilimarc and Geotab provide utility companies and municipalities with rich data-insights via a combined business intelligence (BI) solution to help solve proliferating problems in the industry including sustainability initiatives and operational efficiencies.
Utilimarc is expanding to provide its solutions to municipal government fleets. The combined solution empowers fleets with access to an advanced analytics platform that integrates Geotab's vehicle and driver data with operational system data — maintenance, charging station and fuel cards — to deliver a single reporting solution.
Meeting electrification and emissions mandates while optimizing operational efficiencies and cutting costs pose continual challenges for fleets today. Through this partnership, the Geotab and Utilimarc BI solution will enable utility and government fleets to effectively navigate emissions reduction, preventative maintenance, vehicle replacement and rightsizing initiatives.
"Geotab and Utilimarc's missions remain strongly aligned: to be a source of trust and reliability for our customers. Through this partnership, our goal is to remain the go-to source to help utilities and municipalities better support their fleet and create proactive strategies to enhance fleet operations," says Utilimarc CEO Chris Shaffer.
The partnership has developed a collective understanding of the many challenges that these specific fleet industries face including:
Data quality issues from disparate and unreliable fleet management systems
Supply chain issues leading to procurement challenges
Sustainability and reporting demands
Pricing and costs associated with emerging technologies