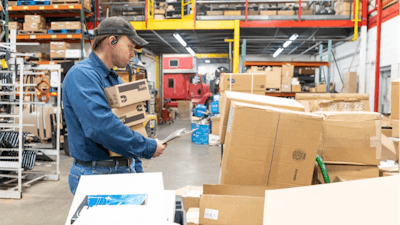 While supply chain challenges wreaked havoc on parts inventory levels, most dealers and distributors were able to adjust and continue to meet the needs of their fleet customers.
Now, some economists are predicting a recession in the general economy, and there has been some softening in the spot market that could be an indication trucking activity is slowing down. There has even been some talk of a recession, albeit a mild one.
In light of these developments, TPS spoke with parts distributors and dealers to see what, if any, changes they are making to their parts purchasing process and inventory levels.
"We still are waiting to see signs that things are returning to normal," says Jerry Garramone, director of purchasing, Blaine Brothers. "It seems like some of the fallout from the last few years will be permanent. In this unsure environment, we will continue to do whatever we can to maintain our supply of parts so we can take care of our customers, no matter what happens."
Marc Karon, president, Total Trucks Parts, describes the situation with parts as "a moving target." He says, "One month a supplier does well and the next month they cannot deliver." However, he adds that in general, he thinks things are improving.
Kat Guerrero, corporate procurement manager, Rihm Kenworth, says the dealership has seen specific parts lists "ebb and flow on long lead times." As a result, the company tries to keep multiple and well-timed orders in the queue to match demand from its customers. One big problem was with raw materials shortages that affected brake drums, which also happen to be one of the dealership's biggest sellers annually. The dealership has diversified its purchasing to ensure it has a steady flow of products coming into it seven locations.
[RELATED: Finalists selected for 2022 Successful Dealer Award]
Guerrero says despite supply chain issues, the dealership has seen parts demand remain high and sales have grown. "We've adjusted our purchasing to accommodate the exaggerated lead times." She says the company also plans to stock up for seasonal demand in the fall and winter and has committed to multiple trailer load purchases prior to the end of the year.
Garramone says the goal at Blaine Brothers is to have parts in stock its customers need. "That has always been our top priority. That said, we've brought our safety stock down on some parts and gotten more focused on maintaining plans for A/B movers. Overall, we are streamlining where we can."
The distributorship also has been focused on correctly accounting for lead times, something they did not have to worry about in the past. "We are going to second and third option suppliers more and more to keep parts in stock," Garramone says.
Phil Howard, Blaine Brothers' director of parts, adds, "Adapting to the economy came in several phases to include lead time, days of stock, supplier back orders and pricing. Putting all those things together reminds me of a conductor leading an orchestra. Putting those purchasing practices in place, developing the metrics and reviewing the performance of the phases will allow purchasing to continue to be the conductor."
Karon is not concerned about getting caught with too much inventory if things slow down. He says recessions usually don't have a large impact on his business as his customers are municipalities, school bus fleets, sanitation fleets and agricultural fleets. He also believes "inventory is like putting money in the bank." His one concern is if suppliers start to drop prices, but he does not see this as having a high probability of occurring. "Instead, they will continue to increase prices and my investment will grow in valuation. But, more importantly, I will have product to service my customers."
[RELATED: SAF-Holland finalizing Haldex acquisition]
Karon has a lot of confidence in his supplier partners and does not think they will panic and drop prices. "More than likely, suppliers till take reduced costs to their bottom line or at worst, offer volume purchase discounts."
As for changing parts purchasing plans, Rihm's Guerrero says the dealer has no plans to slow down purchasing practices until it sees "marked improvement in lead times and availability from our suppliers." The company wants to support its customers and its AOR, especially given fleets are running older trucks as the supply of new trucks continues to be constrained. Nor will the dealership be altering parts stocking, she says.
"We do not plan to alter stocking levels and we continue to work with suppliers to have sufficient orders in the queue to keep product trickling in," Guerrero says. "We do not want to leave our customers hanging when they are trying to keep their fleet on the road longer than usual."
Garramone says Blaine Brothers' parts stocking levels are "aimed at having what our customers need, doing math and making sure the levels are right." Until the math tells them to make a change, they will "hold steady and watch" the market, he says.
Karon adds the trend of suppliers cutting back on programs like rebates and increasing prepaid freight levels has caused Total Truck Parts to make adjustments in sourcing. "The one change we have seen is that customers are now placing a higher importance on availability over price. So, when a supplier makes it harder to meet our customer requirements for availability, we have to move to another supplier." He says customers have offered no resistance to this strategy.
Most dealers and distributors review the mix of products they sell on a regular basis and sometimes make changes. Guerrero says Rihm will only make the normal adjustments for seasonal purchasing for the winter.
However, Karon says his sales team works with customers to find their pain points. "If we see an opportunity to help alleviate that pain with an added line, we add it." In the past two years, Total Truck Parts has added three lines as a result of customer requests.
Garramone says Blaine Brothers is constantly adding to its product offering, "trying to fill in any gaps we have so we can be a one-stop shop. We keep moving in the direction of 'let's have the parts we need to take care of our customers and keep them on the road.'"
And while Blaine Brothers may add parts lines, it does not plan to reduce the number of parts suppliers with whom it works. "We're not going to make any dramatic changes," Garramone says.
Howard adds, "We do a review with [our suppliers] on a regular basis to make sure our partnership is successful, and we strategize for the rest of the year and beyond. In today's environment, you need those partnerships or you will soon find yourself without parts."
Reducing the number of vendors they do business with is not likely for Total Truck Parts either.
"I do not believe that is an opportunity for us since we get the best discounts as a result of our loyalty and the hard work done by HDA Truck Pride." He adds when an opportunity presents itself the company looks at it. "But we always weigh that opportunity against customer preferences, strategic alliances with key suppliers, support for our marketing group and how our sales team wants to proceed."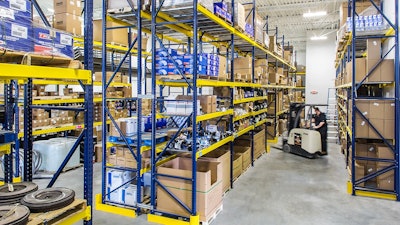 Guerrero says Rihm likes to join strategic partnerships that make good sense for both the dealer and its customers. "However, we find customer demand for specific parts or manufacturers is influential in making changes of that nature."
Satisfying customer demand is the driving force behind the decisions dealers and distributors make around which parts to carry, which vendors to partner with and how much inventory to carry.
Perhaps Howard summed it up best, "We have spent a lot of time truly understanding the fill rate for our customers and put metrics in place to guard against becoming too lean on inventory. You can't sell from an empty shelf."