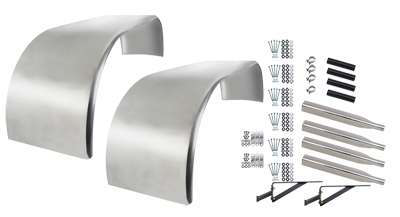 BettsHD has launched its new line of Smooth Stainless Steel Fenders for heavy-duty tractor/trailer applications.
Made from bright 16 gauge stainless steel for durability, BettsHD says its new fenders provide a smooth design finish for a stylish look to enhance any truck or fleet.
"Our Smooth Stainless Steel Fenders feature a 24-in. width for extra spray suppression and a 1.5 in. flange design delivering strength, flexibility, functionality and style," says Bob Herold, vice president sales, BettsHD. "Just like our entire line of safety-related products, BettsHD fenders are manufactured from the highest quality materials to provide buyers with a lasting solution."
BettsHD Smooth Stainless Steel Fenders are made in the USA and available in pairs or kits in single axle, half tandem or full tandem sizes. The company says a Total Installation Kit (TIK) provides the best value for customers. A TIK includes a pair of specified fenders, optional mounting brackets, mounting hardware and universal center bracket(s) where required.
For more information on the complete line of BettsHD fenders, visit www.BettsHD.com.