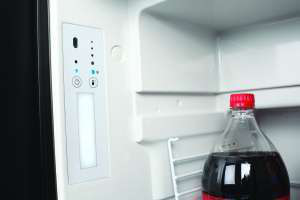 Dometic Group will introduce its CRX 50 built-in refrigerator for trucks later this month at the Mid-America Trucking Show in Louisville.
On display March 26-28, 2015, at Booth 14252, Dometic says the CRX 50 has a 50-liter overall capacity and a well-insulated freezer compartment that is easily removed if the driver prefers to maximize fridge space. It also has the best cooling capacity and lowest power consumption in its class. All internal controls are electronic, with no mechanical parts that wear out over time.
"The CRX 50 has undergone rigorous stress and vibration testing and is the most rugged and reliable refrigerator in its class," says Jim Kerrigan, vice president of OEM Sales at Dometic. "The added flexibility of a removable freezer compartment means drivers can easily adjust the interior configuration to meet their specific needs. Drivers can rely on this refrigerator to keep their fresh food cold while on the road."
The CRX 50 is a direct fit replacement for all major brands, the company says.