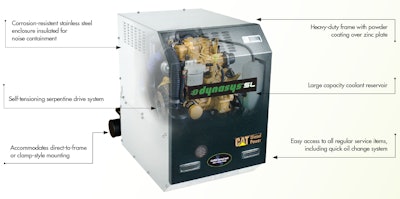 Perrin Manufacturing is showcasing its new 18-in.-wide Dynasys SL for the first time this week at the Mid-America Trucking Show in Louisville.
The automotive-style HVAC system is available with a multi-purpose HVAC console that fits virtually all major day cab configurations and an under-bunk version that accommodates most traditional sleeper cab styles, the company says.
Unlike the popular Dynasys APU, the new Dynasys SL APU does not include an AC power generator, but focuses solely on operator comfort and climate control of the vehicle's cabin. Perrin says the automotive-style system is lighter weight and employs a belt-driven AC compressor to generate up to 24,000 BTU/hr of cooling power and heat dissipation from its diesel power plant to deliver up to 8,000 BTU/hr of heating strength.
Both Dynasys and Dynasys SL APUs are the most compact models on the market and fit the frame rail mounting space of most North American day cab and sleeper cab brands. With 25 percent less weight than the standard Dynasys model and its ability to accommodate both day cab and sleeper cab power units, the new Dynasys SL gives fleets more options, more flexibility and more convenience by providing enhanced in-cab comfort, as they compete to attract and retain drivers, the company says.
"At only 18 in. wide, the Dynasys and new Dynasys SL have the thinnest profile of any diesel-powered APUs on the market," says Terry Nielsen, chief engineer for Dynasys. "With the proliferation of AC inverters in most day cabs and sleeper cabs today, we wanted to provide an alternative APU without self-contained power generating capabilities, that would be about 25 percent lighter and even easier to maintain."
The original Dynasys and new Dynasys SL are the only APUs on the market to use a corrosion-resistant stainless steel outer envelope and heavy-duty zinc-plated frame with powder coating. Also unique to the Dynasys brand is its in-cab, touch-screen user interface controller, the company says.
To add to operator comfort, the units are also designed with advanced noise reduction technology, keeping them at or below 75 dB under full load, producing about a third less noise than an idling class-eight diesel truck, the company says.
"The new Dynasys SL APU has been engineered for severe duty environments," Nielsen says. "Its hardened design makes it a great alternative for challenging off-road environments where heavy debris accumulation is an issue."