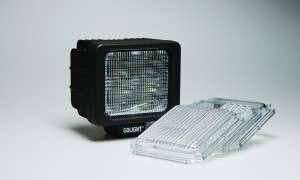 Golight, Inc. introduces its new model GXL 4021 fixed-position LED work light.
The new light's fascia measures just four and a half inches wide by four inches tall, has a depth of only 3.5 in. and comes with a 2 in. stainless steel mounting bracket. The GXL 4021 represents the company's expansion of its permanently mounted, manually adjustable LED work lights and is the smallest of the four lights it now offers in that category, Golight says.
According to the company, the light's small size and illumination power is a byproduct of its space-saving "LED cluster" design, combining four clusters of four high-powered LEDs to generate a maximum output of 4,500 lumens. The raw power of the light's 16 LEDs is controlled through the use of three versatile polycarbonate lenses. Changing lenses is easy and users can switch between spot, flood and combination spot/flood lenses as the need arises, the company says.
The powerful new LED work light has been condensed into a deceptively small format that makes it an extremely versatile light source that is easy to mount virtually anywhere on a vehicle. Golight adds that the light's hardened aluminum housing is ultra-resilient, and combined with the lights solid-state electronics, has been engineered for extreme super-duty service with an impact g-force survivability rating of 40 Gs.
"We're excited to augment our fixed-position light offering with this exciting new and competitively priced light," says Jason Repass, southwest regional sales manager at Golight. "Based on our MSRP, the new model GXL 4021 fixed-position LED work light will have one of the industry's lowest cost-per-lumen ratios."
The new light is the result of Golight's continuous marketplace evaluation and more than 20 years of advanced electronic and optical engineering in the remote-controlled work light arena, the company says. Qualitative customer feedback told Golight that the new fixed-position GXL 4021 light would be a perfect complement to its pan and tilt vehicle lighting products.
The new model GXL 4021 fixed-position LED work light also is expected to attract significant attention across a wide variety of work truck-related markets, including telecommunication, oilfield, railroad, municipal and public and private utility, Golight says.
The 12-volt light draws only 4.2 amps, features over-voltage and reverse polarity protection and comes with a five-year unlimited warrantee, the company says.