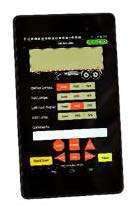 Lite-Check introduces its new Verifier trailer inspection system using the Verifier tablet.
According to Lite-Check, the Verifier trailer interface will test and record the operating systems (lights, brakes, ABS) system data, and save to a file. An app listing the physical DOT inspection items will then direct the operator to record conditions and photos on the Verifier tablet. The trailer file will be transmitted to the office server for processing, Lite-Check says.
The Lite-Check process also will provide a 'verifiable' file recording the trailer VIN, operator, location, time/date, along with the trailer information required for a DOT trailer report. Lite-Check says this easy process eliminates errors and provides a valuable data base for your trailer fleet management.
Lite-Check says the Verifier trailer inspection system is offered as a complete system including the Verifier 1010 trailer capturing trailer system data and the Verifier tablet producing the trailer DOT data file, or a the Verifier tablet producing the trailer DOT data file (without the trailer system data).
For more information, and to see how a report is generated, please CLICK HERE.