Cook Brothers
In his words: Henry Cook, Owner
WHY DID YOU START THE BUSINESS?
My father and my uncle ran the business for many years. When I joined the company, I had a desire to continue the family business and to build upon the success we had achieved. I knew we had the potential to be bigger and reach new markets and I wanted to make that potential a reality.
WHAT WAS YOUR TOUGHEST BUSINESS DECISION?
In 1997 we were approached by a group representing TransCom, USA with a proposal to merge several parts distributors and create a publicly traded company. While we understood the benefits of consolidation, we also saw a downside.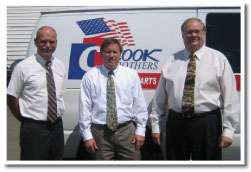 When you are faced with that kind of decision, you never really know what the right answer is. In many ways, you are truly afraid to be wrong since the downside could be tremendous. We not only had to consider the impact upon our families, but also the impact the decision would have on the families of all our employees.
My partners and I struggled for quite some time before finally making the decision to join the group.
WHAT WAS YOUR BEST BUSINESS DECISION?
Our best decision probably was when we added our Mack Truck dealership, Triple Cities Mack, and our leasing company, NEC Leasing, to our portfolio. Prior to that time we were concentrating on just selling truck parts and realized we needed to do more.
We really wanted to be a one-stop shop where we could meet all of a customer's truck needs. By adding a truck dealership and a leasing company, we were able to completely service anyone in the trucking industry or entering the trucking industry.
WHAT WAS YOUR WORST BUSINESS DECISION?
While we clearly did not realize it at the time, the worst decision proved to be the one to join the TransCom group. TransCom did not work for many different reasons and our change to TransCom ended up having a very negative impact on our customers. Fortunately, almost all of our employees stayed with us during those difficult years and we were able to purchase the business back.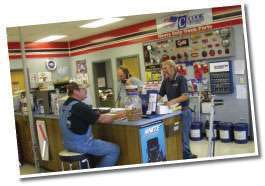 The next few years were very stressful as all our people dug in and worked to bring our customers back. Thankfully, through the hard work and dedication of a lot of our people, we were able to right the ship and move forward.
WHAT IS THE BEST WAY TO KEEP A COMPETITIVE EDGE?
We feel we have to constantly evaluate the market and be ready, willing and able to change our responses to market conditions.
One major way to do that is to open up the lines of communication with our people. Our sales force is in contact with our customers every day and has an excellent feel for what is going on and where we need to be. By cultivating that knowledge we are able to stay competitive.
We also work hard at retaining our memberships in various associations and organizations relevant to our industry. There is a wealth of knowledge and insight available, but you have to put yourself in a position to be able to access that information.
WHAT IS YOUR FIVE-YEAR VISION?
Our plan is to continue our model of constantly staying current with the latest technological advancements in both sales and operations. We feel there are several things we can do technology-wise to make us more efficient, while also creating closer relationships with our customers.
In the next few months we will be opening a new distribution facility that should allow us to improve our purchasing and handling of products. Hopefully, our efforts will permit us to continue increasing our sales and our profitability.
WHAT IS YOUR BUSINESS PHILOSOPHY?
Our motto has always been "For All Your Truck Parts Needs" and our philosophy always has been to provide quality truck parts, along with quality service.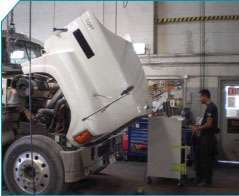 In order to achieve our goals, we have to maintain the right stocking levels for the parts we sell. We also have learned that we must hire quality people. There is no question that our people make the difference. We have the most knowledgeable, hardest-working people in the industry and they drive our business.
WHAT IS THE BIGGEST CHALLENGE FACING THE AFTERMARKET?
The great increase in technology and computer advancements in trucks is driving business back to the OEM dealers. Unless the distributors in the aftermarket develop strategies to keep that business, I believe you'll see an increase in the OEM business and a corresponding decrease in the independent aftermarket.
HOW DO YOU SEE THAT CHALLENGE BEING RESOLVED?
The only way to resolve it favorably is for the aftermarket to develop the tools to be able to work with the new technology and become as effective at diagnosing and handling problems as the OEMs.
That, however, is not an easy task and there is a lot of work that needs to be done for distributors in the aftermarket to continue current levels of success.
DURING YOUR TIME IN THE INDUSTRY, WHAT HAS BEEN THE MOST SIGNIFICANT CHANGE?
Without question, the advances in technology have had the greatest impact on the business.
When I first started, computers were virtually non-existent in the industry. Now, not only does every customer have a computer, but every truck being built is run with computers.
I cannot imagine tracking sales, purchasing product, invoicing, preparing financial statements and doing all the other functions necessary to running a business without computers.
The overall impact on handling sales and servicing vehicles has been completely altered in this new technology-based environment.
WHAT ADVICE WOULD YOU GIVE A YOUNG PERSON CONSIDERING A CAREER IN THE AFTERMARKET?
I would strongly encourage someone to enter this industry since you can have a career, and not just a job. The opportunities in this industry are extraordinary.
Whether you have technical skills, organization skills or your strengths lie in sales or customer service, there is a place for you in the world of the distributor.
HOW DOES YOUR BUSINESS CONTRIBUTE TO THE COMMUNITY?
The primary way is through our support of many local charities. We also participate in community events and encourage our people to become involved in community organizations. Whether it is being on a committee for a charity, volunteering for a community event or coaching little league, we like our people to be involved and active in local organizations and events.
WHAT DO YOU KNOW NOW THAT YOU WISH YOU KNEW WHEN YOU FIRST GOT INTO THIS BUSINESS?
I wish I had known that computers were going to become such an integral part of what we do. It would have been great if all of our people could have had a stronger background in computers to prepare us all for the technological advancements we have experienced.
As technology has raced into our industry, employees uncomfortable with that technology have been resistant to change. If I had known where we were headed, we could have started training at an earlier stage and made many of our transitions much smoother.
WHAT MOTIVATES YOU EVERY DAY?
New challenges pop up every day in this business and no day is exactly like another. Dealing with those challenges while trying to take advantage of new opportunities keeps all of us going and, hopefully, moving in the right direction. n
Name of Company: Cook Brothers
Headquarters Address: 7 Walter Avenue
Binghamton, N.Y. 13901
Web site: www.cookbrothersco.com
Founded: 1918
Owner(s): Henry Cook, Bob Seyerlein and Michael Venuti
Number of Locations: 9
Number of Employees: 152