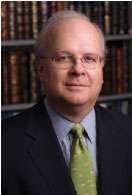 Rove To Deliver Keynote Address At Commercial Vehicle Outlook Conference
Karl Rove, former deputy chief of staff and senior advisor to President George W. Bush, will share his political insights with attendees during the second-annual Commercial Vehicle Outlook Conference, Aug. 24-25, 2011 at the Dallas Convention Center.
Known as "The Architect" of President Bush's 2000 and 2004 campaigns, Rove is described by author and columnist Michael Barone in U.S. News & World Report as "…unique…no Presidential appointee has ever had such a strong influence on politics and policy, and none is likely to do so again anytime soon."
Rove is a Fox News contributor, writes a weekly op-ed for the Wall Street Journal, is a Newsweek columnist, and is the author of the book Courage and Consequence, which chronicles his role in the Bush campaigns and White House. Rove will provide an inside look at Washington politics and the 2012 Presidential campaign.
Building on the momentum of last year's inaugural conference — which attracted more than 350 industry leaders from all segments of trucking — this year's Commercial Vehicle Outlook Conference promises to be even more successful.
The 2011 CVOC will again feature compelling presentations on the industry's most critical issues, including:
• Outlook for freight, truck buying and parts and service activity
• The future truck: off-shore competition, telematics, alternative fuels and more
• How fleets are thriving in a changing environment: the driver shortage, rising fuel and equipment costs and increasing regulation
• An update on the major regulatory and legislative issues affecting OEMs, suppliers, dealers and carriers
Presented by the Heavy Duty Manufacturers Association and Randall-Reilly Business Media and Information, which produces Commercial Carrier Journal, Successful Dealer and Truck Parts & Service magazines, the CVOC will be held Aug. 24-25, the day prior to and the opening day of the Great American Trucking Show. Registration begins at 11 a.m., Wednesday, followed by a networking lunch. A networking reception will be held immediately following the program on Wednesday. The conference ends at noon on Thursday when the Great American Trucking Show opens.
The event is sponsored by Castrol, Espar Heater Systems, Jacobs Vehicle Systems, Kenworth, PACCAR Parts, PACCAR Engines, Peterbilt and Volvo Trucks North America.
FinditParts Launches Website
FinditParts.com officially launched its new website.The site has amassed an inventory of more than one million parts from more than 800 manufacturers and OEMs. It specializes in sourcing hard-to-find parts.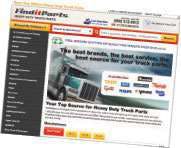 Users can search by part number, manufacturer or most popular part. Additionally, access to parts specialists is available through a special help feature which allows buyers to "click to chat" or to send a photo of their part via email to FinditParts sourcing agents.
"The heavy-duty truck market is huge and complex, not only with the sheer number of parts which we've only tapped the surface of, but the nearly 1,000 manufacturers and OEMs. Finding parts is challenging for a whole host of reasons — there is no standard taxonomy for organizing them and searching by make, model and year is simply not an option," says David Seewack, CEO.
For the latest aftermarket news, announcements and trends, visit truckpartsandservice.com
PEOPLE IN THE NEWS
Following are personnel changes and announcements in the trucking industry:
* Navistar, Inc. announced that William H. Osborne has been named vice president of Custom Products. In this role, Osborne will have accountability for Navistar's Monaco RV and Workhorse business units.
* Hutchens Industries announces the promotion of Kandy Hume to regional manager for the Iowa, Kansas, Minnesota, western Missouri, North Dakota, Nebraska and South Dakota. She will be responsible for calling on existing Hutchens' customers, as well as developing new opportunities throughout the territory.

* Polar Corporation announced the appointment of Michael Evans as president of Polar Service Centers, one of three companies under the Polar Corporation umbrella. Evans replaces Craig Fisher.
Betts Spring Signs Long-Term Agreement with DTNA

Betts Spring Company has finalized a three-year renewable long-term agreement with Daimler Trucks North America (DTNA) to supply Betts and Life-Time Fenders branded spray suppression products and other proprietary components manufactured to DTNA specifications.
"Betts has been a supplier to Freightliner for over 70 years and we value this relationship tremendously," says Mike Betts, president of Betts Spring.
"We appreciate that with this new long-term agreement Daimler Trucks North America expresses continued confidence in our ability to supply products and services that meet DTNA's strict quality and innovation standards."
DTNA's Procurement Manager Dean Veeder says, "We appreciate the opportunity to partner with suppliers like Betts that accept the challenge of delivering sustained value in our rapidly evolving marketplace. Betts is the recognized brand in spray suppression applications and thus fits well with DTNA's genuine brand philosophy."
Dealer News
Here are news and announcements from truck dealerships:
* M & K Quality Truck Sales of Indianapolis, LLC completed the acquisition of the Mack Trucks franchise from Central Indiana Mack Sales and Service. Operations of the Mack dealership will be consolidated into the existing M & K dealership operations at 1401 Harding Ct., Indianapolis. In addition to Mack trucks, M & K represents Isuzu and Hino trucks in Indianapolis and operates M & K NationaLease, a full-service truck leasing company with nationwide service provided by NationaLease.
* One of the largest dealer groups in the Midwest, U.S. Truck Sales, has acquired certain assets of Chicago International Trucks. Dealer Principal Shelby Howard has named Mark Yacobozzi the new president of Chicago International Trucks. Yacobozzi has more than 15 years of experience in the commercial trucking industry, and will now lead Chicago International's 400 employees at eight Midwest locations.
FTR Shippers' Condition Index Falls Significantly
FTR Associates' Shippers' Condition Index (SCI) as reported in the firm's May Shippers Update fell significantly to a reading of -11.4 reflecting tightening capacity and accelerating transport costs. The SCI sums up all market influences that affect shippers; a reading above zero suggests a favorable shipping environment, while a reading below zero is unfavorable.
Larry Gross, senior consultant for FTR, says, "The recent sharp deterioration in the SCI reflects the twin pressures of tightening capacity and rising fuel surcharges. Looking ahead, with the slower recent growth in the economy, we are expecting the SCI to begin to stabilize and would not be surprised to even see some modest improvement in the next few months.
Such improvement would not, however, change our basic outlook for a difficult environment for shippers through the end of this year and well beyond."
Meritor And Pressure Systems International Renew Strategic Alliance
Meritor, Inc. and Pressure Systems International (PSI) have announced the renewal of their strategic alliance covering the distribution of the Meritor Tire Inflation System (MTIS) by PSI in North America.
Under terms of the agreement, Meritor remains the exclusive distributor of MTIS by PSI for the commercial semi-trailer market and aftermarket in North America, selling a complete line-up of kits for new or retrofit installations. Pressure Systems International retains all responsibility for design and manufacture of the system, which includes ThermAlert technology, a high temperature notification system available on all MTIS by PSI kits.
Eaton Forms Global Aftermarket Unit
Eaton Corporation announced the formation of a new Global Aftermarket and Clutch Business Unit, and named John Beering as its vice president and general manager.

The new business unit combines Eaton's automotive and truck aftermarket product lines and its heavy- duty truck clutch business and will have global responsibility for marketing, sales, business development, engineering, program management and manufacturing strategy.
"This new structure will help us to put a greater focus on the aftermarket in both the automotive and commercial vehicle markets, and it will also allow us to better apply our resources to grow these businesses globally," says Ken Davis, president of Eaton's Vehicle Group. "John's business leadership skills and experience position him very well to lead and grow these businesses for us."
Senate Votes To Repeal Form 1099 Reporting Requirements
The U.S. Senate passed HR 4, a bill to fully repeal the expanded 1099 tax reporting mandate passed as part of last year's health care law.
The 1099 requirement was passed in 2010 as part of the health care reform law known as the Patient Protection and Affordable Care Act. This provision would have forced all businesses to issue a Form 1099 to vendors from whom they buy $600 worth of goods or more on an annual basis, and was scheduled to take effect in 2012.
This requirement was expected to result in massive amounts of paperwork and increased compliance costs.