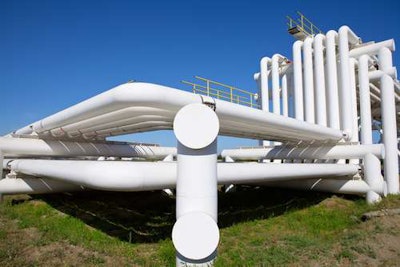 The biggest step in preparing your business to service natural gas trucks is updating your facilities.
Because of the different physical properties of natural gas, you cannot service a natural gas engine in the same facility as a diesel engine without implementing safety upgrades. While these upgrades can be costly up front — ranging from $40,000 to $70,000 — they can quickly provide payback once you start servicing natural gas trucks.
The first step is investigating your current setup and deciding what is your best course of action, says Rick Mendoza, facility design manager at Clean Energy.
"The structure and characteristics of every service facility are different. Each one needs to be modified in a different way," he says. "What we do [at Clean Energy] is bring our knowledge of natural gas to a [service provider], then we assess their facilities and let them know what it is going to take" for them to service natural gas trucks.
There are four ways a service provider can modify its business to provide natural gas service, says Nadine Haupt, director – alternative fuels at Navistar: Retrofit an existing location, add a secluded natural gas workspace to an existing diesel facility, build a separate facility at a current location or start a natural gas capable service facility at a new location.
Retrofitting an existing location is the most affordable and common approach, but the principles remain the same no matter which option you choose.
The first step is to contact your local government to see if there are any safety regulations for how your building should be modified, says Sarah Carlson, truck customer service manager at GE Capital Fleet Services. Most of these regulations will come from your local fire marshal.
There are currently no official national regulations or guidelines on how to update your facility to maintain natural gas trucks, Carlson says. Some parts of North America — Southern California, for example — have more experience and thus stronger guidelines for dealing with natural gas truck repair, but ultimately every facility modified or built for natural gas will do so under different regulations, Mendoza says.
Douglas Horne, president of the Clean Vehicle Education Foundation, says his group, and organizations like Clean Energy, the Natural Gas Vehicle Institute and Natural Gas Vehicles for America, are working to change that.
"We want to provide some basic guidelines for everyone, and I think people want that," he says. "Things like, 'This is how you need to work with your people to provide a safe facility.' It's just part of being a more mature industry."
Once you've uncovered your local governmental requirements, it is time to look into retrofitting your location.
Mendoza says the most important aspects of retrofitting an existing service location are removing potential heat sources and providing ceiling ventilation.
"Petroleum-based fuels have always been heavier than air. So when they spilled, you had to worry about them puddling up on the floor," Mendoza says. "With natural gas, you are looking at a fuel that is lighter than air. It doesn't fall on the ground; it rises to the ceiling."
The top 18 inches of the ceiling, to be exact, he says.
To detect and remove natural gas that leaks from a fuel tank and into the air, service facilities must add ventilation systems on their rooftops and affix natural gas sensors within 18 inches of the ceiling.
The open path beam sensors are positioned on two ends of a rectangular service facility and shoot an infrared line across the building that identifies natural gas. For non-rectangular facilities where open path beam sensors are impractical, point detectors can sense natural gas at a 50-foot radius.
When installing fans and ventilation systems, it is important to install enough that the air in a facility can be quickly and efficiently evacuated in the event of a leak, says Sam Stevenson, general manager at the new natural gas equipped JX Truck Center in Kronenwetter, Wis.
When Stevenson's company, JX Enterprises, began designing his facility in 2008, they did not intend to build it for natural gas service. But as interest in the alternative fuel grew in the area, the company altered its plans.
"Our footprint stayed exactly the same," he says. "The biggest change we made was the HVAC system," which had to be altered to be compatible for natural gas service. In natural gas facilities, only natural gas sensors and the building's ­ventilation can be located in the 18 inches below the ceiling.
Also, standard HVAC systems cannot be used in natural gas facilities due to the high temperatures and open flames they create, which can ignite natural gas.
Stevenson says JX decided to use in-floor heating units as the primary source of heat in its natural gas facility, and removed above-ground heating systems from the facility plans.
Together, all of these steps will help eliminate the risks of a natural gas leak in your facility. But Horne adds even if your facility is properly modified for natural gas service, it is still a good idea to perform all refilling and draining of natural gas tanks outside your building.
The less potential for a natural gas leak in your facility, the better.
Once these changes are made, your facility will be ready to service natural gas trucks. If you've been efficient, and trained your technicians about natural gas engines while improving your facilities, you can make your business natural gas capable in 90 days or less, says Dan Martin, president of Dual Green Consulting.
"It's not really that hard once you get started," he says. "You just have to have a plan."