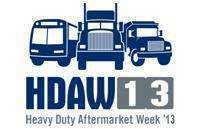 A new program focused on heavy-duty service has the co-chairs for HDAW 2013 excited about the upcoming show, scheduled for Jan. 21-24, 2013 at The Mirage in Las Vegas.
Now in its eighth year, HDAW has become the premier industry event for the heavy-duty aftermarket, featuring educational sessions, speakers and one-on-one meetings for distributors and suppliers.
The event's busy schedule will be even more impressive next month with the addition of SOLD: Service Opportunities & Learning Day. Promoted as an opportunity for heavy-duty service providers to sit down and discuss current business practices and plans for success, the event is already generating excellent feedback.
"I think for a lot of service organizations HDAW has been a positive event, but there wasn't as much to do for them as the distributors," says Walt Sherbourne, HDAW co-chair. "We believe SOLD gives them a structured program focused on their business, and allows them to take that information into [the week]."
SOLD will consist of four separate educational sessions, and will feature presentations by Tony Molla, National Institute of Automotive Service Excellence (ASE); Tom Kotenko, Snap-on Nexiq; David Milne, Automotive Training Managers Council (ATMC); Darry Stuart, DWS Fleet Management Services; Rick Martin, Meritor LLC; Tony Kockritz, Hendrickson International, Stu Mackay, MacKay & Company and Bill Wade, Wade & Partners.
SOLD will be held from 8 a.m. to 4:30 p.m. on Monday, Jan. 21 in the Montego Room at The Mirage. More than 110 service providers have already signed up for the event, more than double the numbers HDAW expected when creating the program.
Interested parties can sign up for the SOLD event at any point until Jan. 21, HDAW says, and the registration fee is $99.
"The feedback has been very positive," Sherbourne says.
And that positivity hasn't just been found in the SOLD program. HDAW is seeing across-the-board registration growth.
HDAW co-chair Tom Stewart says the organization sold out its trade show space and event sponsorship in early December, and expects and increased number of total vendors, one-on-one sessions and attendees.
"We anticipate close to 1,600 people at the general session," he says.
HDAW will officially kick off Monday evening with a reception sponsored by Truck Parts & Service and Accuride. Tuesday's general session will feature speeches by Sam Geist of Geist and Associates and William Strauss of the Federal Reserve Bank of Chicago, and the presentation of Truck Parts & Service's Distributor of the Year award and the Hall of Fame award, presented by R.L. Polk.
This is the first year both awards will be presented during the opening general session. "We think it is much better recognition for either recipient to present these awards on Tuesday," Stewart says. "It's best to do it when everyone is there to honor them."
HDAW also will feature four education sessions, eight networking breaks and meals and the very popular Pinewood Derby reception on Wednesday, Jan. 23.
For more information on the inaugural SOLD program, click here. For a complete schedule of events, or for more information on HDAW, click here.