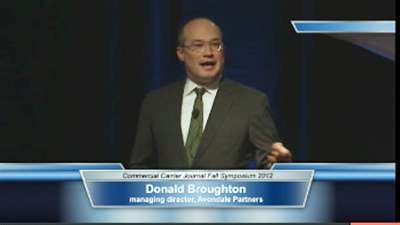 The trucking industry's reluctance to reinvest in its fleets could soon come back to haunt them.
Donald Broughton, managing director of Avondale Partners, speaking at the CCJ's Fall Symposium Tuesday morning said he's seen recent failure rates drop to all-time lows, even though the price of fuel has continued to spike.
Broughton said much of that could be contributed to a good used truck market that saw vehicles hit a premium in the spring.
"Residual value of a used truck was at a premium at April," he said. "It's down over 20 percent since."
The equity built up in the trucks offered some owners an easy out through selling their fleet, which he said has contributed to the lower failure rates.
Those who opted to maintain operations face a tough six months ahead, Broughton added, and outside of a poor economic outlook, owners' reluctance to reinvest in their fleets will likely compound the problem.
"The industry as a whole has underinvested in the fleet, in the trucks and to an even greater extent, the trailers," he said. "Driver training, too. You name it. The industry has not decreased financial debt (outstanding loans) and has not increased imbedded debt (money invested in operations and equipment)."
The imbedded debt is unavoidable, Broughton continued, and operations who have not addressed it along the way will likely be hit with it all at once.
"These fleets, as a result, will be less equipped to weather economic downturn," he said, adding that the coming failure rate statistics could be epic. "The next round will set records because (owners) not be in position to do anything except shut down," he said.
Broughton's hour-long discussion offered a detailed insight into what he sees as a collision course with the looming "fiscal cliff."
"The fiscal cliff represents $8 trillion in tax hikes and spending cuts," he said. "That by itself reduces the (Gross Domestic Product) by 1.6 percent."
That kind of immediate negative impact, Broughton forecasted, would drive the country off the cliff and into recession.
Broughton's full economic prediction was blunt.
"My prediction…Indeed, we will go off the cliff."