People in the News
Following are personnel changes and announcements in the trucking industry:
Bergstrom Inc. has named Alan Leupold director of test and development.

Reyco Granning has named Brien Scheffee leader of the company's light-vehicle and powered-vehicle units, while Joe Gallo will lead the trailer group and Steve Denny will lead the aftermarket group.
Ancra International has hired Larry Bethel as director of purchasing and planning, and Jeff Murillo as manager of business development.
PalFleet Truck Equipment has appointed Bruce Helmeid as general manager of the company's Nashville, Tenn. location.

Power Train Companies has appointed John Wolff to store manager of the Indianapolis branch, Larry Higashi to the role of vice president of remanufacturing and Brandon Ford to the new director of sales, adding to his role as marketing director.
American Trucking Associations has named Don Lynn its new vice president of sales and marketing.
Polar Service Centers has named Jeff Buckholz regional field sales representative for the Northeast.
Great Dane has added Robert Maharrey as its new director of quality assurance.
Eaton Corp. has named Patrick Randrianarison president of the Vehicle Group in Europe, the Middle East and Africa (EMEA). Succeeding Randrianarison as Eaton's president in South America and president of the Vehicle Group – South America will be Antonio Galvao.
Economic News
The following is economic news from the trucking industry:

FTR Associates has released preliminary data showing July Class 8 truck net orders at 12,568 units, the lowest month for orders since August 2010 and 32 percent below the same month last year. FTR says July orders came in 23 percent below weak June activity and continue to reflect soft demand for Class 8 vehicles.
For-hire trucking companies added 3,100 payroll jobs in July as the overall U.S. economy added a net of 163,000 nonfarm jobs, according to the latest estimates released Aug. 3 by the Bureau of Labor Statistics. Payroll employment in trucking was up 0.23 percent over May and 3.3 percent over July 2011.
Economic activity in the manufacturing sector contracted in July for the second time since July 2009, but the overall economy grew for the 38th consecutive month, say the nation's supply executives in the latest Manufacturing ISM Report On Business. The PMI registered 49.8 percent, an increase of 0.1 percentage point from June's reading of 49.7 percent, indicating contraction in the manufacturing sector for the second consecutive month following 34 consecutive months of expansion.
Dealership News
The following is news from dealerships in the trucking industry: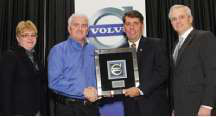 Volvo Trucks has named GATR of Sauk Rapids, Minn. as its 2011 U.S. Dealer of the Year.
JX Truck Center has broken ground on a new 28,000-sq.-ft. facility in Kronenwetter, Wis. The new site is located about six miles south of the commercial truck dealership's current location in Wausau.
The Pete Store LLC announces the opening of The Peterbilt Store – Delaware, a full-service truck dealership in Seaford, Del.
Kenworth of Buffalo has relocated its Syracuse dealership to a larger facility strategically located off Interstate 90 near the Syracuse airport.
Allison Transmission, Freightliner Begin NG Partnership
Allison Transmission, Inc. has announced its transmissions are the exclusive offering in Freightliner's natural gas vehicles,

including the new Cascadia 113 natural gas tractor.
According to Allison, the Cascadia 113 natural gas tractor will be equipped with the new Cummins Westport ISX12 G heavy-duty engine and with Allison 4000 Series transmissions exclusively at launch. Allison 3000 Series transmissions also are exclusive in Freightliner's M2 112 and 114SD vehicles with the Cummins Westport ISL G 8.9L engine.
"Allison transmissions are the ideal option for alternative fuel vehicles because of their torque converter technology that results in improved startability at the launch of the vehicle, full power shifts and better performance," says Robert Carrick, vocational sales manager – natural gas, for Freightliner Trucks.
"Natural gas technology is an exciting option in the commercial trucking market and we're proud that Allison is a leader in this area. Customers anxious to experience the new Cascadia 113 natural gas tractor will be able to take advantage of all that natural gas engines have to offer while getting Allison's renowned reliability, durability and performance," says Jim Wanaselja, vice president North American marketing, sales and service, for Allison Transmission, Inc.
Minimizer's Kruckeberg Honored By Ernst & Young
Craig Kruckeberg, chief visionary of Minimizer, has been named a finalist for the Ernst & Young "Entrepreneur of the Year" award for 2012 in the Upper Midwest region.
The Ernst & Young award recognizes business leaders in 140 cities and more than 50 countries throughout the world, and recognizes entrepreneurs who demonstrate excellence and extraordinary success in such areas as innovation, financial performance and personal commitment to their businesses and communities. Finalists for the award are selected by a pool of judges.
"I really need to give credit to our entire entrepreneurial leadership team at Minimizer," says Kruckeberg. "I made the list as a result of the success we've experienced over the past several years."
EPA Files Final Ruling On Navistar Engines
The U.S. Environmental Protection Agency has filed a final rule that will determine whether Navistar will be allowed to continue to pay fines to sell diesel engines that do not meet 2010 diesel exhaust emissions standards. EPA filed its final rule for review with the Office of Management and Budget but did not disclose details.

The White House normally does not comment on rules under review, and details are unlikely to emerge until the final rule is published in the Federal Register upon completion of OMB's work and subsequent White House review.
An EPA spokesperson says the final rule draft is now in the hands of OMB, where it will undergo an interagency review process cited as "another step forward in the process" of releasing a final rule. As of now, no firm timeline for public release of the final rule can be given, the spokesperson says.
An earlier interim rule had allowed Navistar to pay noncompliance penalties (NCPs) while continuing to sell engines that did not meet EPA emissions guidelines pending EPA's final rule filed in August.
The interim rule was challenged in federal court by Navistar competitors who claimed the NCPs did not constitute a realistic penalty for not meeting emissions regulations and therefore gave Navistar a competitive advantage over companies that had invested in — and delivered — emissions solutions that met EPA's emissions regulations.
The court agreed with the plaintiffs, and the status of Navistar's heavy-duty diesel engine lineup has been in limbo since, pending EPA's final ruling.
Navistar spokesperson Karen Denning told the Chicago Tribune on Aug. 7, that the company "is encouraged by the submittal of the final rule (to OMB), and we hope that it generally mirrors what was in the interim rule."
Stertil-Koni Sues Rotary Lift
Stertil-Koni USA, Inc. has filed a patent, trade dress and copyright infringement lawsuit against Vehicle Services Group, LLC, which does business under the name Rotary Lift.
The suit, filed in the United States District Court for the District of Maryland (Baltimore), alleges that Rotary Lift's EFX line of scissor lifts infringe on Stertil-Koni's U.S. Patent No. 8,191,865, directed to a Device and System for Lifting a Motor Vehicle.
Stertil-Koni makes and sells scissor lifts covered by its patent under the name Ecolift.
Stertil-Koni's complaint also alleges that Rotary Lift has misappropriated the trade dress of Stertil-Koni's Ecolift scissor lift, and that Rotary Lift infringed Stertil-Koni's copyright by copying Stertil-Koni's drawings for Rotary Lift's EFX scissor lift.
Stertil-Koni's complaint seeks damages of an unspecified amount and an injunction preventing Rotary Lift from further acts of patent infringement, trade dress infringement and copyright infringement.
"Rotary Lift left us no choice since it has chosen to infringe our intellectual property rights," says Dr. Jean Dellamore, president of Stertil-Koni.
FleetPride Acquires Midwest Brake & Wheel
FleetPride Inc. has acquired the assets of Midwest Brake & Wheel Inc. and Gille Co. Inc. a separate entity.
The new 40,000-sq.-ft. facility is located at 1140 S. W. St. in Indianapolis.
The acquisition, terms of which were not announced, marks FleetPride's second entrance into the Indiana market, the company says. Current owners Mark Bauer and Chris London will stay on with FleetPride, Bauer managing the branch and London in a sales capacity, and employment offers were extended to 15 additional team members.
"FleetPride wanted more direct access in the Indianapolis market," says Lee Stockseth, FleetPride president and chief operating officer. "Midwest Brake & Wheel has a stellar reputation and brings a significant local customer base and a customer-focused philosophy that is complementary to FleetPride's heavy-duty parts business. The combination of these two companies gives us the ability to serve our existing customers more effectively, as well as offer a broader range of product categories to all customers."
S&S Truck Parts Opens New Parts Distribution Center

 S&S Truck Parts, Inc. has opened a Southwest parts distribution center in Texas.
"The new 43,000-sq.-ft. facility located in Irving, Texas will further improve delivery time and reduce inventory and transportation costs for our Southwestern customers," says Angela Holdway, S&S director of sales.
Andy Mundy, manager of the new facility, adds, "We have the full line of NewStar parts and components in stock and we are ready for immediate pick-up and delivery."