Paul Raymond, President
Andy Raymond, Vice President, Administration

Name of Company: Parts for Trucks, Inc.
Website: www.partsfortrucks.com
Founded: 1919
Owners: Paul and Andy Raymond

Number of Locations: 15 branches (four with service repair shops), one brake shoe remanufacturing facility and one parts distribution center
Number of Employees: 240
Markets Served: The four provinces of Atlantic Canada (New Brunswick, Nova Scotia, Prince Edward Island and Newfoundland – Labrador)
What is your business philosophy?
Transportation involving heavy-duty trucks and trailers is a vital part of our economy.
Operating these vehicles safely and efficiently requires repair services that are reliable and a supply of replacement parts that is dependable and cost-effective.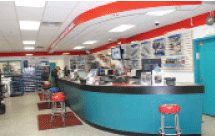 That is our role; that is why we are in business. Our philosophy is to provide these services in a way that is constantly improving.
What is the biggest challenge you face today?
We are a regional company competing against distributors and OE dealers. These competitors have much larger buying capacities and can offer national fleet programs under a single name.
What are you doing to resolve that challenge?
Our participation in VIPAR provides the mechanism to maintain a competitive pricing level and a framework for fleet programs on a national level. The other part of the equation is maintaining a superior level of service to our customers.
What does your company do to excel in the area of facilities?
We pursue a goal of continuous improvement both in the level of service we provide to our customers and in the working conditions for our staff. One of the key ways we work to achieve this goal is through cost-effective improvement in our facilities.
We design our facilities to maximize the customer experience. All 15 Parts for Trucks locations have large "open-bin" store areas with bright lighting, display-style shelving and customer-friendly signage.
This type of facility encourages our customers to see the range of products we offer. We also use open areas of floor space to display product specials and demonstration models.
We strive to maintain an up-to-date look in our stores. Every store has a long customer-service counter with many flat-screen monitors, and a large LCD display, visible to the customers, that continuously promotes Parts for Trucks products and services with messages and videos from a central source.
All locations have a wireless network that connects Parts for Trucks mobile devices, including our phone system. A parts person on a wireless phone from anywhere in one warehouse can receive customer calls, and can call someone in another Parts for Trucks location with four-digit dialing.
We operate four repair facilities and all have bright and modern customer waiting areas. Our store and repair shop customer areas also have hot coffee and clean washrooms that are easily accessible.
The layout of our warehouses has been optimized to allow our staff to operate efficiently and safely. Good warehouse design minimizes travel time from the front counter to the shipping desk, and utilizes a mix of racking and material-handling solutions for best-fit solutions.
Much of the product in our sales warehouses is supplied from our central parts distribution center, a 30,000-sq.-ft. facility that has been in operation for more than three years. Many suppliers ship directly to our PDC, and the PDC ships daily replenishment orders to our sales warehouses.
All products in the PDC are bar-coded and all transactions are processed using RF (radio-frequency) mobile devices.
The design of the PDC, and the special warehouse software application used, allows wave picking and bin location optimization for high efficiency.
Throughout our facilities, we have sought ways to make the workplace more comfortable and more energy-efficient. We have converted a number of facilities to high-output, low-energy lighting solutions.
Many of our newer locations have in-floor heating, and our PDC has achieved LEED certification.
Parts for Trucks operates in a mix of owned and leased facilities, and sets high standards of appearance for all locations.
In the past year, we relocated one sales warehouse to a new building built to our specifications, and completed a $1 million plus renovation on our largest facility, sections of which were more than 40 years old.
The renovation involved a complete overhaul of the customer areas in both the parts and repair departments and included a new showroom, a new entrance, new exterior siding, a new air-handling system, a generator to power the entire building during a power interruption and new offices featuring a specially-equipped training room.
We currently are in the building phase of two other projects. We expect to finish work in July on an expansion of both the repair garage and warehouse areas of one location.
We also currently are having another building constructed to our standards; we will relocate an existing sales warehouse to that new, larger facility in September of this year.
Investment in our facilities is a priority. All of us at Parts for Trucks take pride in our place of work, and we recognize that our customers see that pride reflected in the service provide from these facilities.