People in the News
Following are personnel changes and announcements in the trucking industry:

* Jim Edwards has joined East Manufacturing as western region manager.
* John Walsh has been named vice president of marketing for Mack Trucks Inc.
* Total Truck Parts has promoted Dale Haywood and Leo Cordeiro to its senior management team. Haywood will assume the role of manager of government sales and Cordeiro will assume the role of general manager.

* Toyo Tire & Rubber Co., Ltd. has appointed Tatsuo Mitsuhata as president and CEO of Toyo Tire U.S.A.
* Phillips Industries has hired Tom Pittam to fill the new position of global sales representative in Asia.
* Volvo Financial Services has promoted Stephen Yonce to vice president of Truck Financial Services for its U.S. division.
* James S. Peary has accepted the position of director, business operations for Mitsubishi Fuso Truck of America.

* Rick Sippola has been named director of business development for VHD Equipment Network, LLC, a subsidiary of Vipar Heavy Duty.
Trucking adds 3,600 jobs in November
The for-hire trucking industry added 3,600 new payroll employees in November, according to preliminary numbers released by the Bureau of Labor Statistics.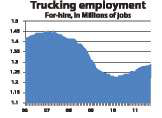 BLS, however, revised downward its preliminary figures for October by 600 jobs.
Compared to November 2010, trucking employment is up by 33,800 jobs, or 2.7 percent. Payroll employment is up by 62,600 jobs, or 5.1 percent, since the bottom of trucking employment in March 2010. The number of trucking jobs — nearly 1.29 million — remains 163,400 jobs below peak employment in January 2007.
The BLS numbers for trucking reflect all payroll employment in for-hire trucking, but they don't include trucking-related jobs in other industries, such as a truck driver for a private fleet. Nor do the numbers reflect the total amount of hiring since they only include new jobs, not replacements for existing positions.
* Karla Hulett has been hired as the new chief financial officer of the American Trucking Associations.
* Minimizer has named Tim Trom to the position of vice president of operations and finance.
COLE HERSEE LAUNCHES COMMERCIAL VEHICLE WEBSITE
Cole Hersee, the commercial vehicle products division of Littelfuse, Inc., has unveiled its new website at www.colehersee.com.
According to Littelfuse, the intuitive and information-rich site makes product selection quick and straightforward. The website features hundreds of explanatory diagrams, a dictionary of terms and a wide range of technical specification documents, all easy to access, save and print.
The website offers robust ordering and bookmarking features, the company says. The new site also is said to make it quick and easy to download spec sheets, catalogs or catalog sections.
Dozens of new products are showcased on the new website, including products like the LVDs (low voltage disconnect switches) and the company's expanded range of ignition switches.
FleetPride acquires Greeley Truck Parts
FleetPride Inc. has announced the acquisition of Greeley Truck Parts, a Greeley, Colo.-based independent heavy-duty parts store.
In operation since 1995, Greeley Truck Parts services agricultural, oil and gas and trucking companies in Eastern Colorado and the Northern Front Range corridor. Founders Kevin and Deborah Hieb will stay on, with Kevin as branch manager. Terms were not announced.
"We're excited about Kevin and his team joining the FleetPride network," says Lee Stockseth, chief operating officer of FleetPride. "With FleetPride's broader product offering, including hard-to-find and specialty parts, as well as our nationwide delivery network, we are ready and committed to provide the same customer-focused service Greeley's loyal customers have come to expect."
W.M. McGee, FleetPride president and chief executive officer, says Greeley Truck Parts fits perfectly into FleetPride's long-term growth plan, which is focused on organic growth and strategic acquisitions.
"We are constantly looking for successful and well-respected independent operators, and Greeley Truck Parts is an excellent example," McGee says.
Fleetco joins Wabash National dealer network
Wabash National announced the addition of Fleetco. Inc. to its dealer network. Fleetco now is authorized to sell Wabash National dry and refrigerated vans in parts of Alabama, Arkansas, Georgia, Kentucky, Mississippi and Tennessee.
"Partnering with Wabash National not only grants us access to the leading product in dry vans — DuraPlate — but also allows us to expand our product portfolio through ArcticLite refrigerated vans," says Dale Broadrick, founder and chief executive officer of Fleetco.
Headquartered in Nashville, Tenn., with additional locations in Memphis and Atlanta, Fleetco is a full-service dealership and one of the nation's largest retailers of new and used semi-trailers. In addition, its Nashville location offers more than 1,500 trailers for lease.