Seasonal Capacity Constraints Cause Shippers Conditions
Index To Decline, FTR Says
FTR Associates' Shippers Conditions Index (SCI) for November dropped 2.5 points from the previous month to a reading of -6.1 reflecting seasonal tightening of shipping capacity. The SCI sums up all market influences that affect shippers; a reading above zero suggests a favorable shipping environment, while a reading below zero is unfavorable.
FTR's January Shippers Update published January 6 reports that the trucking industry is currently in a stable phase with firm rates and modestly tight capacity, a situation that is expected to continue throughout much of the year, according to FTR.
Now that the revised federal hours-of-service regulations have been issued, the acute trucking capacity shortage that had been expected to hit in 2012 has been postponed until 2013.
"The final hours-of-service regulations recently issued by the FMCSA were not as onerous as originally feared," says Larry Gross, senior consultant for FTR.
"The enforcement date of mid-2013 provides plenty of time for the inevitable court challenges to proceed without imposing additional uncertainty costs on shippers and carriers. Nevertheless, unless there are further changes in this or other new regulations, or a major economic slowdown between now and the middle of next year, we still project a major capacity shortage in trucking for next summer."
PEOPLE IN THE NEWS
Following are personnel changes and announcements in the trucking industry:

* Phillips Industries has hired Rick Barlow as Eastern regional sales manager.

* Betts Springs has promoted William Michael "Bill" Betts to vice president. In this newly created role, Betts will lead sales and marketing for the Betts branded Spray Suppression business.

* FleetPride announced two senior level promotions. Mike Paxton has moved from vice president business development and strategic planning to vice president of mergers and acquisitions, and Peter Pasdach moves from vice president Midwest region to vice president of business development.
* Compli, a provider of HR and compliance management software, has appointed Darrel Young as vice president of development.

* Ancra's Cargo Division announces the addition of John Czarnecki as sales executive for the Mid-States region with sales responsibility for Indiana, Ohio, Kentucky, West Virginia and Michigan.
* Bee Line has named Tricia Kane marketing communications manager.

* Chuck Bosselman, chairman of Bosselman Companies, lost his battle with cancer on Jan. 7 in Grand Island, Neb. surrounded by his family.
Wix Launches New Web Site

Wix Filters, a member of the Affinia Group family of brands, has launched ecoLAST.com, a special web site featuring ecoLAST oil filter benefits, an application look-up, a fleet savings calculator, technology information and more. The ecoLast line of direct replacement spin-on heavy-duty oil filters are said to double oil life and save fleets $100 to $200 per vehicle annually.
"Our new ecoLAST line of heavy-duty oil filters performs so well that it requires fleet managers to change the way they view their maintenance schedule," says Mike Harvey, brand manager for Wix Filters.
"We created ecoLAST.com to give fleet managers a place to learn more about the technology and to see how much money they can save by changing their fleet to ecoLAST oil filters," he adds.
Pulse Of Commerce Index Increased 0.2 Percent In December
The Ceridian-UCLA Pulse of Commerce Index (PCI), issued Jan. 11 by the UCLA Anderson School of Management and Ceridian Corporation, rose 0.2 percent in December following the 0.1 percent increase in November and the 1.1 percent increase in October.

Although December's news is positive, the combined effect of the three consecutive positive months was not enough to offset the weakness of trucking last summer. The PCI in December 2011 is 1.2 percent below its June 2011 level.
In the past three months, compared to the prior three months, the PCI increased at an annualized rate of 0.5 percent. On a year-over-year basis, the PCI was down 0.7 percent in December compared to the 0.9 percent year-over-year increase in the prior month.
"Many Wall Street economists have jacked up their 'backcasts' for fourth quarter GDP growth to 3 percent but the PCI does not support this view," says Ed Leamer, chief economist for the Ceridian-UCLA Pulse of Commerce Index and Director of the UCLA Anderson Forecast.
"The PCI measures inventories destined for factories, stores and homes, and the decline in the PCI in the third quarter correctly anticipated the large negative contribution of inventories to GDP growth." With all three months of the fourth quarter now available, the PCI suggests fourth quarter GDP growth of 2.0 percent or less.
"With real retail sales growing more rapidly than the PCI over the last two quarters, however, the first half of 2012 may be an inventory-rebuilding period, allowing inventories to make a substantial contribution to GDP growth," Leamer says.
Great Dane adds New Dealer For Southwest
Great Dane announces the addition of Border International to its North American distribution network. With full-service dealerships located in El Paso, Texas, and Las Cruces, N.M., Border International extends Great Dane's reach within the region.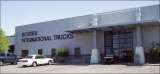 "We are excited to welcome Border International to Great Dane's dealer group," says Chris Hammond, vice president of dealer sales at Great Dane Trailers. "The management and staff hold their customers in the highest regard, and they strive, as we do at Great Dane, to deliver excellence at every turn. Great Dane and Border International will make an impressive team, covering much of the southwest."
Border International offers sales, parts and service of Great Dane Trailers at both its locations. Most makes and models of trucks and tractors also are serviced at its 30-bay facility in El Paso and at its 12-bay facility in Las Cruces.
JX Peterbilt – Grand Rapids Expands Parts, Service Hours
JX Peterbilt – Grand Rapids announced its parts and service departments will stay open until midnight on weekdays to better meet the aftermarket needs of its customers.

The dealership offers full maintenance and repairs, parts sales, new and pre-owned truck sales and vehicle rental and leasing.
"We are responding to demand by providing greater convenience and helping customers maximize their uptime," says Larry Raspor, general manager of JX Peterbilt – Grand Rapids.
The dealership's parts and service departments are now open from 7 a.m. to midnight Monday through Friday and from 8 a.m. to noon on Saturday. The truck sales department is open 8 a.m. to 5 p.m. Monday through Friday.
Meritor sells French manufacturing operation
Meritor, Inc. has completed the sale of the assets of its axle operation in Saint Priest, France, to Renault Trucks SAS. Terms of the sale were not disclosed.
"We believe this transaction takes us another step toward optimizing our footprint in Europe," says Chip McClure, Meritor chairman, president and CEO.
"We will retain and continue to invest in our Lindesberg, Sweden, and Cameri, Italy, axle facilities with new housing technology, laser welding lines for our 17X and 18x carriers, robotic automations and advanced gear manufacturing capability."
According to Meritor, Renault Trucks is expected to perform only final dressing and painting in the St. Priest, France operation. The divestiture affects nearly 400 employees at the France facility who will transfer to Renault Trucks.
Accuride Boosts North American Aluminum Truck Wheel Capacity
Accuride Corporation announced that it enhanced its aluminum wheel production capacity during 2011 through a combination of strategic acquisitions, key process technology investments and transfers of aluminum wheel machining lines within its operations.

These steps were part of a $35 million strategic initiative to boost Accuride's ability to serve the commercial vehicle industry's increasing demand for high-quality aluminum wheels.
"Many factors, including fuel economy requirements, residual value and aesthetics, are driving the growth in aluminum wheel demand in the North American commercial vehicle industry," says Rick Dauch, Accuride president and CEO.
"Accuride is investing to ensure that we have the right production capacity in place when and where our customers need it, whether for steel or aluminum wheels. We're also raising our standards for product dependability and finish to meet customers' ever-increasing expectations."
New Coalition To Design National Model For Electric Vehicle Deployment
A new coalition of executives from blue-chip companies in the transportation and utility industries announced it has come together to design a large-scale electric vehicle (EV) demonstration project that will help create a comprehensive national model for EV deployment.
The Electrification Leadership Council (ELC) is a coalition of key stakeholders throughout the EV supply chain who have the expertise and resources required to engage federal, state, regional and local agencies and coalitions, utility companies, vehicle manufacturers and financial institutions to help overcome the barriers to broad scale EV deployment.
ELC members include FedEx Express, Hertz, Navistar, Azure Dynamics, A123 Systems, CODA Automotive, Pacific Gas and Electric Company, ECOtality, Automatiks, GE Capital, large delivery service companies and vehicle manufacturers among other members, along with representatives from national, state and local agencies.
"Our council recognizes that no one entity can create a comprehensive solution for the broad scale deployment of EVs," says Mark Aubry, vice president of Navistar's eStar Electric Vehicle Brand.
"That's why we have come together to create a public and private model that will help us understand what will be required to operate thousands of EVs within a community."
The ELC's strategy is designed to ultimately achieve the broader societal goals of fostering an EV industry, improving urban quality of life, reducing greenhouse gas emissions and supporting energy independence, the coalition says.
The ELC's initial task is to design its demonstration project which will focus on a large-scale deployment of EVs within densely populated local markets where all of the components of an EV Ecosystem can be brought together to better understand the interoperability between EVs and the electric grid across a variety of vehicle classes and applications.
For more information about the ELC, go to www.ELCouncil.com.
Charlotte Diesel Super Show Announces 2012 Dates
The 2012 Charlotte Diesel Super Show (CDSS) will be held Friday and Saturday, Oct. 5-6, 2012, at the zMax Dragway/Charlotte Motor Speedway Complex in Concord, N.C.

Attendees will once again have an opportunity to become participants and/or spectators during a weekend filled with truck drag races, the Custom Rigs' Pride & Polish truck beauty contest, a mid-way filled with industry exhibiting companies and the Hooter's wing eating contest.
There will be opportunities for attendees to do a test drive down the zMAX Dragway, watch jet funny cars, see live entertainment and much more.
"Last year's event was yet another success and we are very excited to be returning to the zMAX Dragway for a third year," says Alan Sims, vice president/executive director, Randall-Reilly Events Group.
Tickets will be offered beginning in March and can be purchased through the Charlotte Motor Speedway, through Ticketmaster or on-site. Adult admission is $20 for a two-day pass; tickets for children ages 7-16 are $10 for two days. Children 6 and younger can attend for free.
All events, exhibits, entertainment and parking are included in the purchase price.
To register to participate in the 2012 truck drag races, the Custom Rigs' Pride & Polish truck beauty contest or for information on the fun drives, please contact the Randall-Reilly Events Group at info@truckshow.com or visit www.dieselsupershow.com.