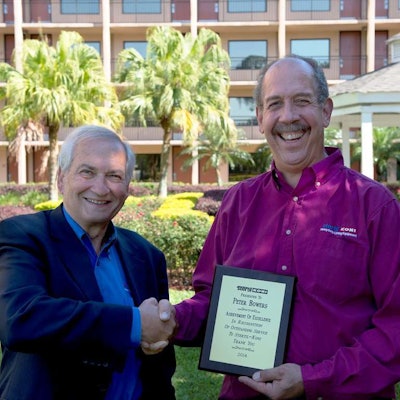 Stertil-Koni has awarded Peter Bowers, the company's Technical Sales Support Manager, its Achievement of Excellence award.
The announcement was made by the company's president, Dr. Jean DellAmore, before an appreciative audience of nearly 100 attendees at Stertil-Koni's 18th Annual Distributor Meeting, held in Orlando, Florida, May 4-7.
"Peter is clearly one of the most talented, knowledgeable and dedicated professionals in the entire field of heavy duty vehicle lifting systems," DellAmore says. "What's more, every single day he brings his 'A' game to provide exceptional and innovative solutions to our expert team of distributors and their clients. Stertil-Koni recognizes his exceptional efforts and salutes his contribution to the entire company."
Bowers joined Stertil-Koni more than 14 years ago and during his tenure has held numerous key roles at the company including service manager, parts manager as well as the general manager. Today, he provides sales and technical support for the full range of heavy duty lifting products offered by Stertil-Koni.