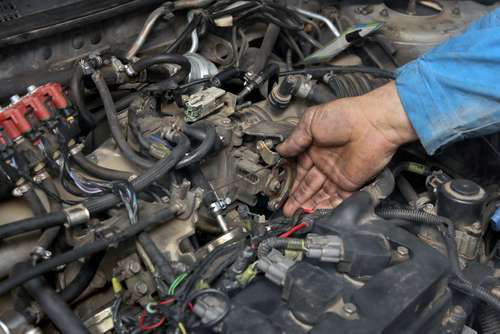 The most important step in training your employees to work with natural gas trucks is making sure they understand the fuel itself.
Natural gas is an organically occurring mixture of gases consisting primarily of methane. It is most commonly found as an engine fuel in the form of compressed natural gas (CNG). According to Nadine Haupt, director – alternative fuels at Navistar, CNG is stored in thick-walled cylindrical tanks at 3,000 psi to 3,600 psi.
It has a slight odor but is lighter than air, which Haupt says allows it to quickly dissolve into the atmosphere if leaked.
Liquefied natural gas (LNG) is cryogenic fuel created by cooling natural gas to minus 250 F. Due to its extreme temperature, it has no scent, Haupt says, and can be susceptible to bleeding off if not constantly kept at its correct temperature. If leaked from a cylindrical tank, LNG will warm into a gas and dissolve into the atmosphere.
Both fuels can be used in heavy-duty natural gas engines, says Bill Davis, assistant director – operations at the National Alternative Fuels Training Council.
According to Davis, a natural gas truck operates by transporting fuel from its onboard tanks to a pressure regulator. The regulator then increases or reduces pressure to the fuel depending on what is needed inside the engine, then releases the gas through a fuel line to the engine.
"Once the fuel passes the regulator, it is going to work the same way whether it is CNG or LNG," he says. "From its storage [on the truck] to the regulator is where the differences arise."
A technician needs to understand those differences when performing maintenance on or around the vehicle's fuel tanks, Davis says.
"When we do training we tell ­[students] that natural gas is different than other fuels. Not more dangerous, just different," he says. "You have to understand that you are working with a high-pressure gas and not a liquid fuel."
While both CNG and LNG are stored in large cylindrical tanks on a heavy-duty truck, a CNG tank must be considerably stronger to handle the increased pressure of the fuel inside.
Also, when damaged, a CNG tank may not show immediate visible leakage, but the scent of gas should be evident in the air, Haupt says.
For a diesel technician used to dealing with fuel spills on the ground, rising fuel spills can be a risk and a challenge.
Haupt says a technician must be able to quickly recognize the odor of a CNG leak and properly ventilate his workspace to allow the fuel to clear the area. When possible, servicing a CNG truck outside can allow easy ventilation in the case of a fuel leak.
Technicians also need to understand the risks associated with an LNG leak. Because of its extreme temperature, LNG can burn skin. Technicians must wear protective gear when maintaining, working around or refilling an LNG tank.
It's also important for technicians to understand that natural gas is extremely flammable. Heavy-duty natural gas engines operate with a spark ignition system. As soon as the fuel comes in contact with an open flame, or extremely heated surface, it will ignite.
That's why service facilities that perform natural gas repairs must install and utilize natural gas sensors, says Rick Mendoza, facility design manager at Clean Energy. Placed on the ceiling of a service facility, these sensors are designed to identify natural gas in the facility and immediately trigger a ventilation system that pushes that gas safely out of the building
CNG and LNG fuel lines also should be shut off when a technician is performing any engine service to avoid interaction with heated components.
Technicians also need to understand the slight differences between a natural gas and diesel engine.
"I would say 80 percent to 85 percent of natural gas engine components are straight off a diesel engine," Haupt says. "There isn't a lot that gets changed."
The major difference between the two systems is the previously ­mentioned engine start. Diesel engines are started with a high-pressure ignition system and natural gas engines rely on a spark-ignited start.
Davis compares the natural gas system to the one used in gasoline-powered passenger cars. He says personal experience is helpful when diesel technicians start training for natural gas service.
"Most of the time we find [technicians] are pretty quick at picking it up because it's a new system, but it's not totally foreign to them," he says. "They are used to gasoline engines and spark-ignition systems in their own lives, so they've seen it before."
Natural gas training courses available for heavy-duty technicians focus on these engine differences during a classroom period then are investigated more deeply during hands-on lessons with natural gas engines. Davis says the NAFTC technician training session is five days long; two days in the classroom and three in the shop.
Once technicians get into their comfort zone and start working, they're fast learners.
"Most of them pick it up pretty quick," Davis says. "I think it is easier for them to learn about the spark-ignition system than it would be the other way around."
Engine makers also are excellent sources of information on these systems, adds Horne. "They are the experts for this technology," he says.
The more sources you can bring in to educate your employees, the better, says Dan Martin, president of Dual Green Consulting. It is essential for dealers and service providers to teach their technicians as much as possible about these engines, and constantly work to keep their staff up-to-date on the technology, Martin says.
"You want to train everyone in your business, from your technicians up to your general manager," he says. "Because when fleets have trouble with these trucks, they are going to look at you first to help them."
He adds, "The OEMs are producing the trucks, but it's the [service providers] that need to be there to help the customers understand them. When a customer has questions, the [service provider] has to be able to get them answers."