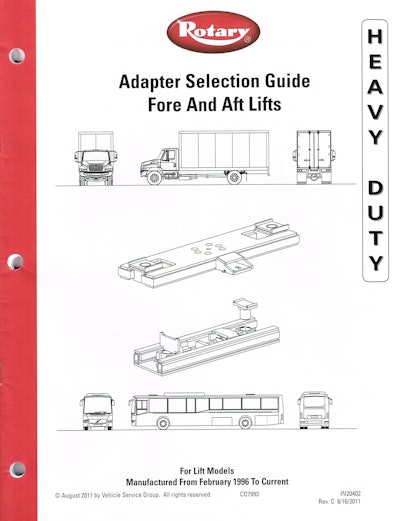 Rotary Lift has introduced a guide to help service providers identify which lifts should be used during service operations.
The guide provides dimensions, diagrams and details for adapters compatible with Rotary Lift's heavy-duty inground lifts, the company says. The adapters fit the company's patented universal saddle and can be used with the popular MOD30 environmentally friendly inground lift, EFX60 scissor lift and traditional inground lift models. Rotary Lift also says it offers a wide selection of third-party certified lightweight adapters and also can manufacture customized adapters to fit customer needs.
"Next to your local Rotary Lift distributor or authorized installer, our Adapter Selection Guide is the best resource for choosing the right adapters to ensure the lifts you have can properly pick up the vehicles in your fleet," says Doug Spiller, Rotary Lift heavy-duty product manager.
Contact your local Rotary Lift distributor or authorized installer for a copy of the 40-page Adapter Selection Guide.