Turns out proper maintenance doesn't just eliminate downtime. It also saves fuel.
Sometimes as much as 5 to 10 percent of it.
That was the conclusion reached by Trucking Efficiency in its most recent Confidence Report on Vehicle Maintenance. Released Tuesday, Trucking Efficiency spent nearly a year investigating the link between maintenance practices and fuel economy for its most recent report.
Through its research, the study team found the trucking industry is aware of the impact poor maintenance has on fuel economy but is unable to quantify it, and is therefore uncomfortable making decisions concerning investments that would improve the maintenance process.
"Quantifying [savings] is the biggest challenge in all of our work but in this area in particular it was really hard," says Mike Roeth, Operations Lead at Trucking Efficiency. "Think of all of the things that can go wrong when a truck is going down the highway. How much does each one impact fuel economy?"
Through extensive research, Trucking Efficiency determined nearly a dozen components and systems that most negatively impact fuel usage due to poor maintenance. Those systems were as follows: Lubricants/Engine Oil, Intake/Exhaust System & Diesel Particulate Filters, Engine Cooling System, Air Compressors, Wheel Alignment, Tires, Fuel Filter Systems, Aerodynamic Devices, Electrical Systems and Air Conditioning Systems.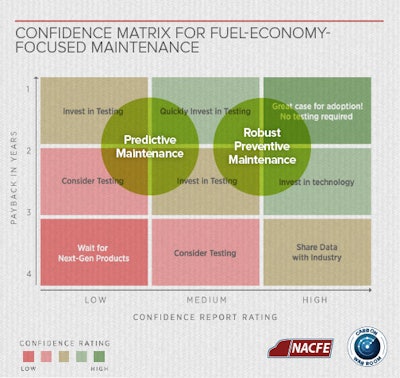 In addition to determining maintenance's value in regards to those systems, Trucking Efficiency also created a Confidence Matrix (at right) as part of the report that measures the team's confidence in maintenance measures, and offers recommendations for fleets interested in using this approach to improve fuel economy.
Diesel prices have fallen dramatically since Trucking Efficiency began working on this report, but Roeth says potential fuel savings benefits remain in place even if fleets have turned their attention elsewhere.
"When we thought $4 fuel was here forever this information really mattered," he says. "And it still can make a big difference for a fleet that decides to focus on it."
Roeth says every fleet interviewed during the research of the Confidence Report described different tactics regarding maintenance, but a few key concepts were referenced throughout the conversations. Those concepts were used to form the basis for the report's best practices, four of which include:
Start by reviewing OEM and component supplier recommendations.
Consider using the Recommended Practices developed by the Technology & Maintenance Council.
Perform maintenance on an on-going basis and in a consistent manner.
Invest in technology that allows you to schedule and track maintenance compliance.
For an executive summary and complete copy of the report, please CLICK HERE.