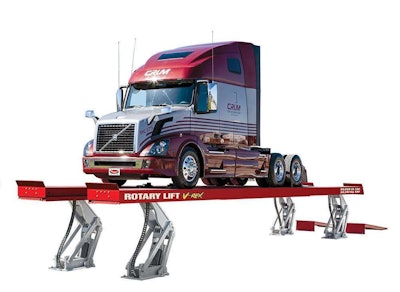 Rotary Lift introduces V-REX, a vertical rise, drive-on platform lift designed for commercial vehicles and heavy-duty trucks.
According to Rotary Lift, V-REX has the industry's most rigid and structurally sound lifting platforms. Its patent-pending half-scissor legs and mechanical locking system are built to last, with high-strength steel where it counts and fewer wear parts and stress points than others in its category, the company says.
"Vertical rise platform lifts are increasingly popular because they can be used for many of the same applications as parallelogram lifts but with a smaller bay footprint and lower upfront investment," says Kirk Dawson, Rotary Lift vice president of heavy-duty. "Some customers have been wary of the lift style, though, because they've seen long runways deflect under load and they've been told by some manufacturers that capacity depends on the vehicle being lifted.
"V-REX alleviates those concerns. Rotary Lift's all-new vertical rise lift has been independently tested at one and a half times its rated load capacity. Its stated load capacity is unchanged regardless of the type of vehicle being lifted or that vehicle's weight distribution, which means technicians don't have to waste time worrying about precisely positioning the vehicle on the lift before getting to work."
V-REX is manufactured with more steel than other vertical rise lifts — as much as 5,000 lbs. more steel per runway — for added strength without excessive cost. Rotary Lift says its engineers have optimized the steel content in the V-REX's unique torque box runway design to offer platforms that are wider and stronger than others that may flex and sag under heavy loads. V-REX is available in three heavy-duty rated lifting capacities: 44,000 lbs., 64,000 lbs. and 80,000 lbs.
V-REX also is available with five runway lengths, from 28 ft. to 48 ft. It can be installed surface-mounted, recessed or flush. Rotary Lift says V-REX is designed to maximize technician productivity, with a vertical rise of more than 77 in., open front and rear, and plenty of clearance around the four legs.
The V-REX legs feature four-bar engineered rotational linkages that transfer shear forces to the foundation, optimizing lift efficiency and decreasing installation costs. This positive force leg design requires less maintenance than other styles. Because the legs feature rotational hinge links that rotate and pivot instead of sliding, they are more efficient and longer lasting. Rotary Lift also has applied for a patent on the V-REX's unique equalization system that's built right into the hydraulic cylinder to protect it from damage and expensive recalibration visits, the company says.
Technicians operate the V-REX lift with a robust control console featuring simple buttons and switches for long life. Rotary Lift says the microprocessor-controlled unit monitors all mechanical and electrical synchronizations systems more than 125 times per second. The lift can be programmed with multiple preset heights. An optional pendant control lets technicians conveniently run the lift away from the console.
V-REX features Rotary Lift's negative rake mechanical lock system with 10 locking positions at convenient, technician-friendly working heights. This locking system has proven reliable on Rotary Lift's parallelogram lifts for many years, the company says.
A variety of optional equipment is available to further the productivity of V-REX, including rolling bridge jacks, wash bay kits, runway lighting, heavy-duty turntables for alignment service, and more, the company says. V-REX is third-party tested and ALI certified to meet industry safety and performance standards.