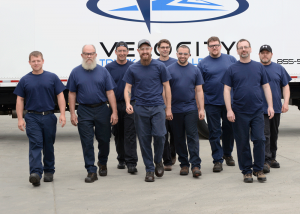 Richard Davis, lead technician with Hogan Truck Leasing, Inc., was named Top Tech at the seventh annual NationaLease Tech Challenge, hosted by Michelin and TCi Tire Centers.
The competition began a day before the organization's annual Maintenance Managers Meeting, which took place May 11-13, 2017, at the Loews Coronado Bay in San Diego.
From a field of 231 participants in the initial written exam, nine qualifying technicians earned their spots in the final competition, representing NationaLease's full service truck leasing companies from the U.S. and Canada, by finishing first in their region on the written exam.
At the TCi Tire Centers in Lakeside, Calif., they competed in the hands-on portion of the event, exhibiting their expertise in stations that included starting and charging, electrical, brakes, wheel ends, HVAC, and engine diagnostics, NationaLease says.
Joining the 2017 NationaLease Tech Challenge winner Richard Davis, were first runner-up John Norwood, Aim NationaLease, and second runner-up Bob Mrzyglod, Aim NationaLease. These gentlemen will represent the NationaLease organization at the TMCSuperTech Competition to be held later this year. The winners were presented with their awards at the NationaLease Maintenance Managers Meeting Awards Dinner on May 12.
The remaining six of the nine Tech Challenge finalists included:
Wade Russell, Nova Truck Leasing, a NationaLease Developing Member
Billy Thompson, Old Dominion NationaLease
Matthew Christopher, Salem NationaLease
Ray Evans, Aim NationaLease
Darren Huebert, GATR NationaLease
Josh Walgamott, Schow's NationaLease
"We congratulate all of our Tech Challenge participants and winners and will be cheering our team on at the fall TMCSuperTech Competition," says Joe Puff, vice president of Truck Technology and Maintenance for NationaLease.