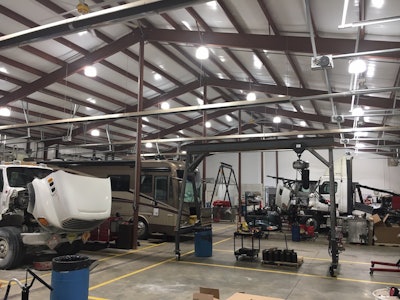 This article is a sidebar from Part I of a four-part series from our sister publication Truck Parts & Service regarding trucking's technician shortage. To read Part I, please click here.
One reality of today's technician shortage is the lack of available qualified candidates. Unless you're willing to poach from your competitors, your next technician hire is going to be a rookie.
"If you're waiting for the guy to walk through the door who has been doing this for 15 years and is ready to hit the ground running, you're going to be waiting for a really long time," says Charlie Nichols, general manager, TAG Truck Center — Calvert City, Ky. "Either they don't exist or they are happy with where they are. They aren't out there looking for a job."
But that isn't to say no one is applying for technician openings. In some cases, interest is there but aptitude and dependability are not, says Ray Schmidt, service manager, McCoy Freightliner.
"We receive a decent number of applicants, but with a lot of those applicants we are finding something in their [employment] history that makes us reluctant to hire them. Like six jobs in the last three years," he says. "They aren't the applicants we're looking for."
As such, many dealers are turning their attention toward the classroom, forging relationships with vocational schools as a method for approaching the best and brightest young technical minds entering the diesel industry.
Nichols says a long-standing relationship he's cultivated with West Kentucky Community & Technical College in nearby Paducah, Ky., has netted TAG multiple new technicians and service managers in recent years. Across the county in Oregon, Schmidt says four of his last 10 technician hires are graduates of the Portland Community College diesel tech program.
"Our mindset now is to bring in technicians with very little experience and put them through our in-house mentoring and manufacturing programs," he says. "If they have that base level of knowledge, we can build on that."
As Navistar's Director of Training Delivery and Recruitment, John Pfennig Jr. knows this strategy all too well. Navistar partnered with Universal Technical Institute (UTI) to develop a Navistar-exclusive heavy-duty diesel curriculum nearly two decades ago that continues to funnel talented young technicians into the company's dealer channel.
"As the technician population thins, it is becoming harder and harder to find technicians locally," he says. "Some dealers do a really good job of creating those relationships with local schools and developing those homegrown pipelines but not everybody is good at that."
Navistar's program with UTI is designed to aid dealers regardless of their recruiting capabilities. Pfennig says International dealers may sponsor students in the program as a way to draw them into their operations post-graduation or hire techs who graduate without any prior dealer connections. He says most dealers prefer the former because of the relationship developed with the student.
Like any career, technicians are more likely to remain in a role where they feel comfortable.
"At the end of the day, [techs] are trying to make a living for their family," says Nichols. "You have to make sure you've made your business a great place to work."