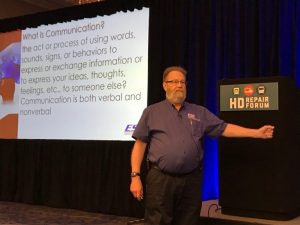 Educational Seminars CEO Maylan Newton says anyone who has operated a heavy-duty service business for more than a day knows conflict is an unfortunate part of the job.
Whether it appears in interactions with customers, suppliers or employees, the fast-paced, high-pressure nature of truck repair creates regular instances of frustration, anger and confusion that lead to arguments and heated discussions.
Speaking to a room of collision service center professionals Wednesday at the Heavy Duty Repair Forum in Fort Worth, Texas, Newton says that while eliminating conflict is impossible, there are things service writers, shop managers and business owners can proactively do to reduce the likelihood of a conversation turning into a full-blown confrontation.
Newton says the first step to reducing conflict in a shop requires understanding how people communicate. He says conflicts aren't only born out of something said, they can also generate from poor non-verbal communication or a complete absence of communication. He says the latter is particularly common when a repair goes sideways — no one wants to call a customer and deliver bad news.
"Too often we don't communicate because we are afraid of a response. Then we try to make decisions based on that lack of information," Newton says.
Yet putting off necessary communication makes things even worse, Newton adds, both due to the stress and anxiety waiting creates and the fact that waiting pauses the path to resolution. He says far too many confrontations occur due to the absence of a resolution to what may have started as a trivial event.
"We need to get unpleasant conversations out in the open quickly, because if not they'll eat away at you," he says. "[Then] when you do eventually react; you act irrationally."
Another issue in communication and harbinger of conflict is emotion, particularly negative traits such as anger or exasperation. Newton says emotion is normal and natural. The problem comes from choices made due to emotions. Whether it be reprimanding an employee for being tardy or addressing a customer regarding a failed repair, Newton says it is important to maintain a level head and make decisions based on available information rather than gut reactions or primal instincts.
"There's nothing wrong with emotion. It's how it dictates your decision making [that's a problem]," he says.
Those facts matter, too. Newton says it is reckless and irresponsible to engage in a potentially tenuous conversation without knowing the facts related to the debate. He acknowledges sometimes this cannot be helped — you never know when a customer is going to call out of the blue and be mad — but references the aforementioned examples again as cases where pre-conversation preparation is clearly possible and beneficial.
Ultimately, he says a service provider's goal should be to enter potentially heated discussions with a strategy to diffuse, not escalate, tension. This means practicing planned conversations and creating communication processes to fall back on when needed. After all, when it comes to conflict, Newton says it takes two to tango.
"The best athletes practice," he says. "What makes you think you don't have to?"