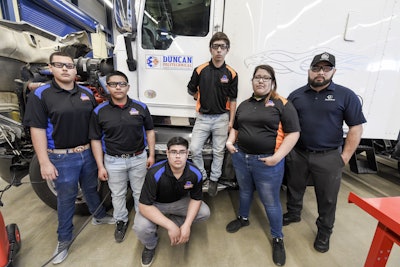 I find myself thinking about technician recruiting at night now. On weekends, too.
That might be normal for you but it wasn't for me. At least not until recently.
I think it's because of the conversations I've had and the research I've done for our four-part special report on trucking's technician shortage — Part II of which can be found here.
It's one of those things where if you have enough conversations about a certain topic, eventually, that topic is going to seep into your everyday thoughts. It's going to pester you and force you to ask yourself questions you may not know how to answer.
I can think of many topics where such a mental lockdown would be maddening or total agony, but tech recruiting isn't one of them. It hasn't bothered me. I know I don't need to be thinking about tech recruiting when I'm mowing the lawn or cleaning my garage but it doesn't hurt anything. And, who knows? Maybe I'll crack the equation and solve our market's biggest problem.
I haven't yet, but that doesn't mean it's impossible.
Hopefully you haven't given up, either. One thing I'm sure of after another round of interviews for Part II of our series is there are a lot of very smart people working hard to fix our industry's employment problem. "Top. Men," as that guy in "Raiders of the Lost Ark" would say.
The trucking industry is too important to global commerce for our employment shortage to last indefinitely, and I think if our market can evolve our recruiting tactics, I do believe there are people out there willing to jump into your service bays.
That's probably the one thing I'm most certain about, actually. I'll echo the words of several sources featured in the stories linked above and say I believe there are tens of thousands of people who would be more than willing to start a career as a truck technician if they had any idea how profitable and rewarding such a career would be.
But they don't know. Because we're not telling them.
The U.S. Census Bureau reported median household income in the United States was a record $61,372 in 2017. The fact that was a record is great, but did you know 38 percent of heavy-duty truck technicians surveyed by Randall-Reilly last year reported making $60,000 or more annually? And among that group, half said they surpassed the $70,000 mark.
Don't you think the person making $12 an hour at your local burger place or your community's newest retail distribution center would be interested to know that? I almost guarantee they would be. A steady job and healthy paycheck cures a lot of ills.
I believe that messaging is key to solving our tech shortage. Absolutely everyone needs to know the potential that exists in our industry.
Cooperation between industry and education also is necessary to make technician training simple and affordable — people who want to work in our market should face no barriers to entry — but that alone won't solve our problem.
It's time to expand our target base. It's time to recruit everyone.