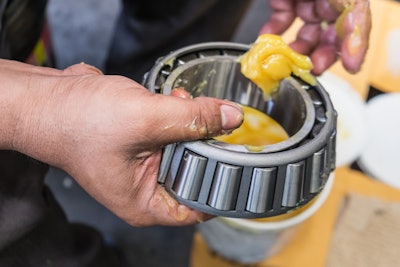 [This article was originally published in 2020 by Trucks, Parts, Service. It has been updated to include more timely information.]
Wheel-end integrity is vital to truck maintenance and repair because no fleet customer wants the costly and dangerous breakdowns that wheel-end failures can bring.
"Our families are riding along next to these commercial vehicles while they're going down the roads at 80,000 lb., and we want to ensure the end-user knows how to do proper installations and the procedure because the adjustment is so crucial that it can't be left to interpretation," says Mike Hartman, SKF national account manager.
At the heart of dependable wheel-end performance lies proper wheel bearing adjustments. TMC's RP-618C, which was just revised in October 2021 and serves as the gold standard in making those critical adjustments that can improve uptime and the bottom line. Hartman quickly referred to those recommended practices, as did Keith Fally, STEMCO national OEM account and service manager.
"STEMCO is proud to partner with TMC in the constant development of their recommended practices for recommended wheel-end procedures and maintenance," says Fally.
Bearings won't get far without the proper lube and for that Fally pointed to TMC's RP-631B which provides recommendations for wheel-end lubrication.
Bearing the load
In the age of 24/7 news feeds, it doesn't take long to come across some tough stories on wheel-end failure.
"I have read on average there is a wheel-off every 8 hours in the United States," Hartman says.
When other components fail, like an alternator, starter, injector, injector pump or EGR valve, the wheels remain on the truck. Faulty injectors aren't exactly racking up the sort of headlines that have attorneys drooling. Bearing failures, however, are a much different story because they can lead to a tragic and costly wheel-off incident.
Though thankfully not as dramatic, other signs of wheel bearing failure include excessive heat, noise, reduced fuel economy and wheel wobble, Fally says.
[RELATED: Proper wheel end play the difference in bearing life, loose wheels]
Of course, there's a lot more to maintaining a smooth, safe ride than swapping out bearings and races. Tools, torque settings and lubricants all play vital roles. Reaching TMC's recommended wheel bearing end play of .001- to .005-in. requires a calibrated dial indicator "with its magnetic base affixed to the hub or brake drum." This isn't boat trailer maintenance. Simply feeling out for bearing end play without a dial indicator is not recommended, experts say.
"I think the old days of not utilizing maintained and calibrated measuring and adjustment tools have gone by the wayside and a lot of the fleets value training," Hartman says. "They want to keep their technicians abreast of the latest training efforts and most of the manufacturers do supply that at no charge now because it's so crucial to have that end-play dialed in within one- to five-thousandths of an inch if it's a manually adjustable hub."
Haste makes waste, and there's simply no room for errors where bearings are concerned.
"Common missteps during bearing adjustments might include improper tightening, not checking end-play, not installing the axle fastener correctly or completely, not spinning the hub to set the bearings and not following the TMC recommended guidelines," Fally says.
Keeping a close eye on parts can make all the difference.
"We want to make sure before we inspect all the components themselves," Hartman says. "Inspect the spindle nuts, no matter who manufactured them, inspect the threads to ensure they're intact and not damaged or cross-threaded. Check the spindle itself. We want to make sure that it's properly threaded and that there's no cross-threading and no missing threads.
[RELATED: How to: Check for wheel-end seal leaks]
"Check the condition of the spindle and the hub itself and make sure there's no cracks and no deterioration. Then when you dock the hub assembly ensure that it's properly aligned without impacting the spindle and potentially damaging any of the components," Hartman says.
When you've docked the hub assembly on the spindle, always support the hub while you're putting the outer bearing assembly in the assembly," he says. "When you start your adjustment procedure, ensure you use the proper tools and follow the recommended procedure for the application, example being for a manually adjustable hub, you would use the RP-618."
Missing the mark on proper bearing adjustment can lead to some tough consequences.
"If you over-tighten the bearings or adjust them improperly it can lead to an overheated hub assembly and burn up the wheel-end," Hartman says. "If it's too loose, you're going to have damage to the bearing and you'll also pull on the seal itself, which may potentially leak in the future and can lead to a safety issue because if a seal's going to leak you could potentially lead to a thermal event.
Simply put, no customer can afford to take shortcuts on bearing adjustments.
Seal the deal
Bearings also aren't going to get far without lubrication. And lubrication isn't going to last for the long haul without good seals.
While seal damage often conjures up images of techs hammering away on a block of wood, punch or some other object to seat seals into a hub, other lapses in judgement can lead to damage.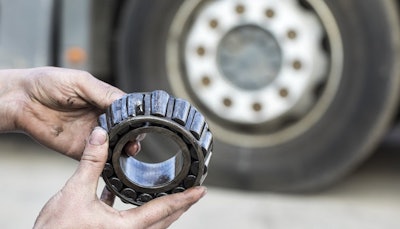 "The number one reason for a premature seal failure may be caused by a combination of improper bearing adjustment, improper or incomplete seal installation (always follow manufacturers' installation and pre-lubrication recommendations), not installing the hubcap correctly and not cleaning the spindle end, bearings and hub properly," Fally says.
"It's also important to apply lubricant to the correct area of the wheel seal OD or ID of the seal before assembly. You should always follow the seal manufactures' recommendations for the correct area of the seal to apply lube because if this is not done properly it can lead to a premature seal failure," he adds.
Hartman laments the use of improper tools, particularly with seal placement.
[RELATED: How to: Proper wheel-end service for greased wheel-ends]
"It's unfortunate people will use whatever they have to put a seal in. Most manufacturers specifically use their own tooling that's designed to work with those types of seals for installation purposes," he says.
"There are some manufacturers that don't require any type of special tool," Hartman says. "You can essentially use a hand tool like a rubber mallet. That negates some of those tool issues we see are in the market where people are using a block of wood, flat bar or something to put a seal in. It could do more damage to the seal unbeknownst to the end-user because they may not see it but internally the seal could be damaged from an improper tool being used."
Just like improper seal installation can lead to shorter bearing life, so can lubrication issues.
"Lubricant integrity is critical to the function and durability of all wheel-end components," Fally says. "STEMCO recommends frequent inspection of the wheel-end for lubricant contamination and/or water intrusion. STEMCO is committed to continually testing lubricants available to the heavy-duty trucking industry to support the best performing systems. We publish a regularly reviewed list of recommended wheel-end lubricants."
Fleets and repair shops can also refer to TMC RP631C on lube fills/procedures and RP624C on lubricant fundamentals, STEMCO advises
Lubrication also ranks high at SKF.
"We have, at SKF, a complete lubrication validation department with our rubber engineering. Every time we meet with a specific fleet or an OE that wants to use a specific lubricant, we actually take that and run a compatibility test with it because we don't know how types of types of lubricants are going to interact with certain rubber," says Hartman.
"There are multiple variations of every different type of rubber and how they react with lubricants can be unknown at times and that's a problem," he says. "So what we do is run compatibility tests and put them through, in most cases, this starts with a minimum of a 30-day immersion test, then a full testing period to make sure there's no type of degradation of the product or any type of contamination that we see with result of a lubricant that's going to effect the seal, which would denigrate the life of it."