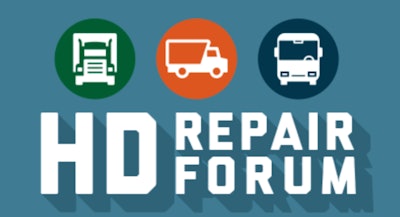 ATA's Technology & Maintenance Council (TMC) announced Tuesday the Heavy Duty Repair Forum has agreed to co-locate its fall event at the 2021 TMC Fall Meeting and Transportation Technology Exhibition this September in Cleveland.
"We are pleased to welcome the HD Repair Forum and their attendees to join us this September," says TMC Executive Director Robert Braswell. "Our events truly complement each other and should provide tremendous benefits for our members, attendees, vendors and sponsors."
The HD Repair Forum is the largest conference solely dedicated to the heavy-duty collision repair industry, and with Tuesday's announcement it will mark the first time the event has co-located with another industry event.
"Today's announcement offers additional significance because the HD Repair Forum and the TMC Fall Meeting and Transportation Technology Forums will be our organizations' first in-person meetings since the COVID-19 pandemic," Braswell says. "This is another mile-marker in our industry's road to recovery and we are excited to gather in Cleveland this fall."
HD Repair Forum President and Co-Founder Brian Nessen also said HDRF will now be held twice a year with a spring and fall format moving forward at venues and dates to be announced.
"Our attendees have asked for a bi-annual event almost since our inaugural event. And for this year, our advisory board suggested we consider co-locating with another industry event as we move back to in-person conferences," Nessen says. "Co-locating with TMC was a natural fit considering many of our advisory board members are regular attendees and supporters of the TMC events and supporters of their efforts to improve the industry."
As a result of co-locating with the TMC, Repair Forum attendees and partners will have an opportunity to attend TMC's technical exhibition, educational sessions and meetings, as well as the many events surrounding the National Technician Skills Competition, TMCSuperTech 2021.
TMC's 2021 Fall Meeting will be held September 12-16 at the Huntington Convention Center in Cleveland. The HD Repair Forum will take place September 15-16, with a schedule of events and registration information coming soon.