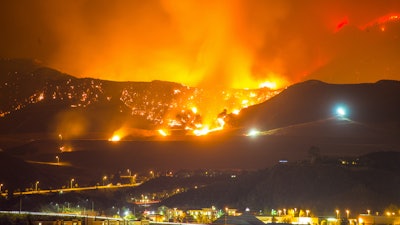 As of Sept. 29, 2021, there have been 48,366 wildfires in the United States consuming more than 6.5 million acres of land, according to the National Interagency Fire Center. NASA satellite images of wildfire smoke and soot show clouds drifting across the U.S., from the West Coast all the way to the Atlantic Ocean.
Technicians servicing vehicles trucking through areas heavy with smoke will want to pay special attention to the engine air filter and cabin filter to maintain healthy air for the engine and the driver.
With engine air filters, any internal combustion engine lives on its fuel and the air it brings in. The cleaner the air, the cleaner the engine will run. The engine air filter is designed to ensure the air getting into the engine is as clean as possible. Not having a sufficient supply of clean air will adversely affect the engine, whether light or heavy duty," says Luber-finer Product Manager Jeff Dent.
He says cabin air filters are a second type of air filter that can be affected by the poor air quality that comes with wildfires. "These filters keep the air flowing through the HVAC system and into the vehicle cabin clean. Some cabin air filters will filter out particles as small as 2.5 micron or smaller. It's here where we would most likely see increased usage, or clogging, especially on a more efficient filter," he adds.
Filters are a dirty business
Dan Adamek, director, engine air filter development, Donaldson Company, says, it's highly likely vehicles operating in areas with heavy smoke will see some increase in rate of pressure rise on the air intake filter, but the amount depends on certain factors.
"The specific particle makeup depends on the fire's fuel type, fuel amount, burning characteristics and weather conditions. Additionally, smoke changes dramatically as it migrates away from the source; condensation and evaporation are likely to change the particle size distribution, chemistry and filter loading characteristics. Lastly, proximity to the fire source and exposure time will also be key factors," Adamek says.
Dent adds most air filters are designed for catching larger particles than what is seen in smoke. However, because of poor air quality, there could be an impact to the engine air filter, especially if there are larger smoke particles than normal.
Engine air and cabin filters would be the most affected filters. "Some cabin filters actually have carbon impregnated media which helps cut down on odors. This would be a great way to upgrade and cut out odors, like smoke, to the cabin and occupants," says Donald Chilton, director of product management of Mann-Hummel, parent company of WIX Filtration.
While the main concern is the engine air filter, cabin air filters can get clogged and not only affect air quality in the cab, but they can cause other problems, too.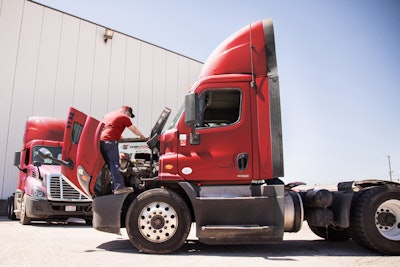 "The cabin air filter will be affected if the HVAC system is also running. The cabin air filter will take external air and filter it, cleaning the air before it enters the vehicle's HVAC system. Without it, all the dirt, ash and other contaminants would run through the vehicle's air conditioner or heating systems and into the breathable air for the driver and passengers," Dent says.
He adds, "The engine air filter is the engine's first line of defense against contaminants from outside the vehicle. In most engine air applications and products, the smoke particles will make their way through the air filter. This means the smoke particles will make their way into the engine, and therefore into the oil filtration system."
Luber-finer adds other filters that might be impacted include filters on refrigerated trucks. These are normally separate air filtration units that could be affected by poor air quality.
Filter maintenance
For areas affected by wildfire smoke, engine and cabin air filters become that much more important because of all the contaminants in the air.
"It is safe to say that for trucks operating in heavy smoke environments, operators and maintenance personnel should pay closer attention to restriction indicators on air cleaners and should not be surprised to see that filters reach terminal restriction faster, with filters needing to be changed more frequently than when they operate in more typical smoke-free driving conditions," says Adamek.
Mann-Hummel strongly suggests a visual check based on the situation. Also, if equipped with a vacuum gauge, pay close attention to any changes in the system.
Luber-finer urges technicians to make frequent filter checks and to replace the engine filter when the truck is being run in regions with poor air quality.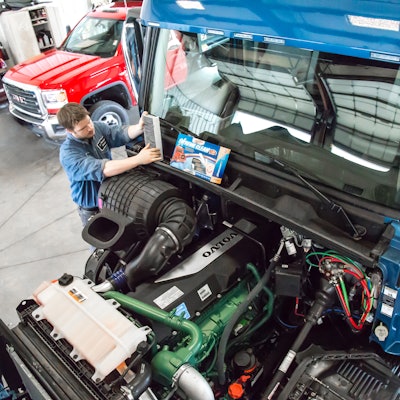 "Many heavy-duty truck applications have an air filter restriction gauge mounted to the air cleaner housing. This gauge is designed to indicate remaining air filter life based on the air flow needs of the specific engine in the application. For applications that have these gauges, they are the quickest and most accurate way of determining the current status of the vehicle's engine intake air filter," Dent advises. 
Luber-finer also advises more frequent filter changes for trucks driving in areas of poor air quality.
"The actual frequency is dependent on the severity of the conditions, but a good rule of thumb would be to at least check your air filters — engine and cabin — at the time of your oil change," Dent says.
"As mentioned previously, because smoke contains very fine particles, using a higher efficiency filter that can catch smaller particle sizes would make the product more effective in filtering out smoke. This mostly applies to cabin air filters, as those products have higher efficiency options in the marketplace," Dent says.
Typically, all heavy-duty air filters will be a minimum of 99.9 percent efficient and can go as high as 99.99 percent.
"The downside of increasing the filter's efficiency is that it will catch more dirt, quicker. This means more frequent changes," Dent says.
Advice to aftermarket
Though smoke from wildfires can play havoc with truck filters — and the trucking industry, in general — it's an opportunity for parts and service providers to promote to their customers more frequent maintenance and the sale of filters.
Dent provides parts and service providers with some advice:
Make sure inventory is available as there will be increased demand for filter replacement.
Ensure customers know about the effects poor air quality can have on vehicles and recommend they check their filters more often (at every oil change or more frequently) again, depending on the quality of the air. The risk or cost impact of less frequent maintenance can be significant. Replacing a poor performing engine is much more costly in all applications than checking and replacing air or oil filters.
Ensure customers' trucks perform as they should by checking that filters are performing at their peak levels.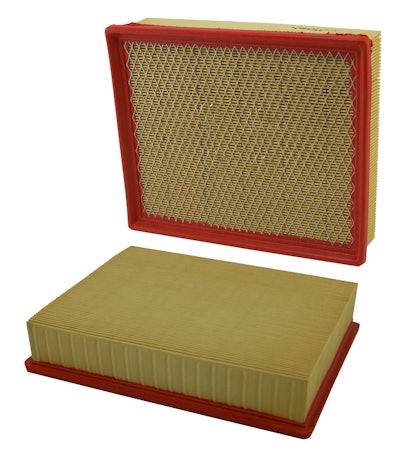 Regarding the use of proper filters, WIX Filters features flame retardant filters for vocational and emergency vehicles that have to get close to the fire. "Our flame-retardant air filters are a great way to protect your equipment or trucks in the most dire situations of firefighting," Chilton says.
WIX also offers a flame-retardant coating on air filters that helps extinguish embers if contact is made with the air filter. When exposed to a temporary ignition source, the media is designed to self-extinguish and resist flame flare-up as the ignition source is cooled or removed. The technology is a prime option for pickup trucks, SUVs and fire and emergency response equipment, the company says.