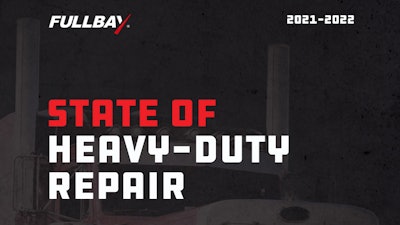 As one might have expected, heavy-duty repair shops were challenged by supply chain and staffing issues in 2021, reported Fullbay and ATA's Technology & Maintenance Council in its second State of Heavy-Duty Repair report.
"This year's report provides repair shops with essential insights and best practices to run their business," says Fullbay CEO Patrick McKittrick. "The report offers commercial repair data you can't find anywhere else with learnings on shop management, labor challenges and current industry parts shortages. It's all designed to provide shops with a tool to benchmark their business against."
Fullbay says among the key findings of this year's report:
82 percent of repair shops faced some disruptions due to supply chain induced parts shortages, including 14 percent of shops that experienced severe disruptions
64 percent of shops found it either "much" or "slightly" more difficult to hire technicians, even while 73 percent of them increased hourly wages
83 percent of shops had annual revenue of less than $2 million in revenue, and 19 percent experienced revenue growth during 2021
The launch of this year's report was announced during a news conference at TMC's Annual Meeting Sunday in Orlando. MOTOR Information Systems also has joined as a key partner of the report. Additionally, Fullbay says the report contains analysis of insights and trends in the commercial vehicle repair industry including demographics, revenue, the continued impact of COVID-19, current industry parts shortages and more.
[RELATED: Did you miss the four-part TPS in-depth industry report? Catch up here]
"At TMC, we have been helping industry professionals improve maintenance and maintenance management for decades, and this report is an excellent way to better accomplish that goal," says TMC Executive Director Robert Braswell. "Facing obstacles isn't new for repair shops; our recommended practices, which are included throughout the report, offer proper assistance for repair shops looking for guidance dealing with these challenges."
The report's data is based on survey responses from more than 900 individuals across all avenues of the commercial freight, logistics, and repair industries. In addition, more than 500 shops across North America using the Fullbay shop management platform were sampled for real-world shop data. Results were anonymized and those surveyed included both customers of Fullbay and non-customers.
Fullbay says the 2021 report is available for download for free HERE.