Volvo Trucks North America has launched an all-new service tracking feature to its Volvo Action Service roadside assistance program at ATA's Technology & Maintenance Council (TMC) Annual Meeting this week.
Volvo says the innovative service tracker will enhance the customer experience during an unplanned stop through a digital, user-friendly platform. The company aims to have a portion of its vendors onboarded with the advanced feature beginning in Q2 of this year.
"Not only will the service tracker provide a convenient and modernized experience for our customers, but it will also help our highly trained Volvo Action Service employees be more efficient," says Ashley Murickan, product marketing manager, Volvo Trucks North America. "As nearly every form of communication is digital, we are going above and beyond to provide complete visibility and elevated roadside assistance for our customers."
[RELATED: Mitchell 1 debuts new tools for truck service]
The Volvo Action Service service tracking feature offers operational advantages such as efficiency gains, automatic dispatching and enhanced insights for the preferred vendor network. For customers and roadside assistance vendors, Volvo says the new connectivity features enables Volvo Action Service employees to expedite getting the driver back up and running by:
Providing transparancy through accurate, real-time updates throughout the breakdown event.
Improved estimate time of arrivals (ETAs) for roadside assistance vendors by leveraging a digitized preferred vendor network.
Modern service experiences with higher visibility and live tracking of the provider's location via an interactive map – similar to ride share platforms.
Less or shorter phone calls to customers with the option to communicate directly via text throughout the breakdown event.
Volvo adds an added benefit of the feature demonstrates customer transparency and ensures safe and clear communications through connectivity, by offering visibility of the provider truck, name and contact information. The ETA also is updated with live traffic conditions and job progress for even further insights to both customers and the certified experts at the Volvo Uptime Center in Greensboro, N.C., which provides all Volvo Trucks customers 24/7 assistance across North America.
"This new technology serves as a true milestone in our efforts to improve customer productivity and uptime," says Magnus Gustafson, vice president, aftermarket quality and operations, Volvo Trucks North America. "Volvo Action Service plays a critical role in keeping us ahead of the curve in the connectivity space, and this added tracking feature will enable Volvo Trucks to deliver on a high quality customer experience."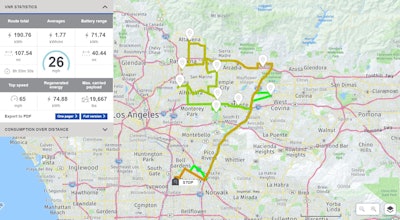 Volvo adds EV tools for customer base
Volvo also debuted two new innovative technology tools to support customers in successfully deploying Volvo VNR Electric Class 8 models into their fleet operations. The new route planning and connected technology tools are designed to help customers maximize performance capabilities and benefits of the zero-tailpipe emission Volvo VNR Electric model.
To help customers identify the ideal Volvo VNR Electric configuration to support local and regional distribution routes, Volvo Trucks has designed a route planning tool, the Electric Performance Generator (EPG), as an extension of its connectivity platform. Volvo says the EPG application enables fleet managers to simulate real-world routes for their VNR Electric trucks, taking into consideration the vehicle configuration and battery capacity, environmental factors such as terrain and ambient temperature, and specific route details, including traffic patterns. Based on estimated energy consumption, the EPG tool will indicate if an opportunity charge would be required, allowing the fleet manager to either adjust the route or plan ahead for a charging event.
Fleet operators that are interested in using the EPG tool to evaluate ideal routes to deploy the Volvo VNR Electric can work with the local sales representatives at Volvo Trucks Certified EV Dealerships, currently available in the U.S. in California, New York, Virginia, and additionally in Quebec, Canada, with dealerships in several additional states finalizing their certifications throughout 2022. Volvo Trucks customers who are currently operating VNR Electrics will be able to access the EPG tool, which leverages Volvo Trucks' connectivity platform to integrate with its Remote Diagnostics and battery health monitoring services, to plan for optimized daily operation of their Volvo VNR Electric trucks, the company says.
Volvo Trucks has introduced connected technology solutions from leading telematics provider Geotab, to provide fleet managers with full visibility into the real-time performance of their Volvo VNR Electric fleet. Via cloud integration, data from each truck is migrated to the MyGeotab platform using the Volvo Telematics Gateway that comes factory installed in every Volvo VNR Electric.
"Introducing battery-electric trucks into a fleet can come with a steep learning curve for both the fleet manager and drivers as they work to navigate the difference in range and fueling time compared to their diesel fleet," says Andy Brown, product marketing manager, Volvo Trucks North America. "These new tools enable fleet managers to find the sweet spot for how to incorporate Volvo VNR Electrics into their operations today and as their battery-electric fleet grows."
These new technology solutions will be introduced in 2022 and come standard as part of the Volvo Gold Contract, Volvo Trucks' premier service offering for the Volvo VNR Electric model. The Volvo Gold Contract is a turn-key solution that enables customers to have operational peace of mind with electric vehicles and includes the full Uptime Services bundle for the Volvo VNR Electric, combining Volvo Trucks' battery monitoring service with its trusted Remote Diagnostics, Volvo Action Service and ASIST via the Volvo Trucks 24/7 Uptime Center.