A mini business section on improving parts and service profitability was a highlight Thursday at the National Trailer Dealers Association (NTDA) Convention in Colorado Springs, Colo.
The session was presented by KEA Advisors' Allen Phibbs, who provided a high-level look at how dealers can alter their culture and internal processes to boost their parts and service bottom line.
[RELATED: FTR's Eric Starks offers positive outlook for trailer sector at NTDA Convention]
Phibbs started his session by referencing a Harvard study from last decade that analyzed the commercial dealership industry as a "mature" market without much large organic growth potential. Phibbs said due to that maturity, success in the dealer channel is defined by cost structure and service, or how you manage expenses and capitalize on sales opportunities. From there, he took the audience through KEA Advisors Five Ps to Improve Profitability: Purpose, People, Pace, Process and Product.
Purpose: Phibbs defined this as what a dealership does and why, referencing both internal culture and external sales-facing actions. He said dealers who are keyed in on maximizing their profitability understand exactly what they want their company to be and how they plan to get there. He also said that dealers who have a clear vision for their business but do not share that vision with their associates risk falling off course because the latter will not know how to execute the former's plan.
People: On this note, Phibbs spoke of the importance of truly knowing your people and how to lead them effectively. He said leaders who have personal connections with employees are more likely to have invested associates. He also noted that dealers should know what leadership looks like on the other side — from an employee's position. "Everyone deserves to be led well," he said.
Pace: Here Phibbs referenced time. How long does it take your business to execute on a plan, or simply complete a task. This could refer to the time it takes from a customer ordering a part to receiving it, or any number of timing mechanisms used in a service shop. The faster a business can move through its business cycle the more money it makes. Phibbs said far too many dealers allow unnecessary, excess time to seep into their operations and limit profitability.
Process: Similar to purpose, Phibbs said a dealer's processes for everything it does should be clear to all stakeholders. He said dealers get back 100 percent what they put into training their associates but 0 percent back when they don't train their associates at all. He said most employees crave training; they want to know how to be more effective.
Product: Phibbs closed his presentation by addressing product, i.e., what a dealer sells. He said on this topic it is vital that dealer associates understand the value of their products, how much they have available and how they can be delivered. For parts, Phibbs said that means dealer associates need to be confident in their inventory. When an employee says, "it says we have five, let me check," he is signaling to a customer that he's not confident in his own inventory, Phibbs said, which is not encouraging for customers. Regarding service, he added dealers should aim to have production times no more than double billable hours. He said allowing additional time to seep into production and service event cycle times will limit the amount of work a dealer can complete.
Dealer finance panel
Another mini session held Thursday was a financing discussion with Heather Wilson of BMO Transportation Finance and Ann Brodette of ENGS Finance.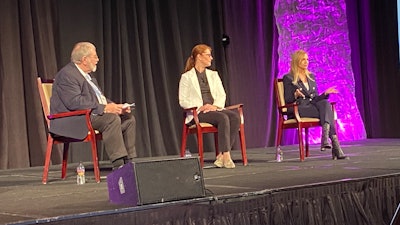 During their conversation the two women addressed how finance companies have responded to the major changes in equipment prices and availability over the last three years, and their expectations for the market in the months ahead.
Similar to earlier presentations at this year's NTDA Convention, the discussion was mostly positive.
[RELATED: NTDA panel talks future of trailer supply chain]
The two lenders said the staggering rise in used equipment prices through last winter did not require many changes to their lending habits and, to date, they have seen little to no negative effects from the higher prices. Wilson said BMO watches delinquency rates "like a hawk" and they continue to remain at or near historic lows. She said her company actually attributes the rise in industry lenders to those low levels. Brodette agreed with Wilson, adding ENGS actually had negative delinquency rates for the first six months of the year — the first time that had ever happened.
Also addressed in the discussion was the sheer scope of the trailer lending market. Without captive financing operations like their truck OEM and dealer counterparts, trailer companies often work with a larger group of lenders. Thursday's panelists said that is good to have when business is good but warned not every lender eager to partner today will be around if the market experiences a downturn in 2023, or later. Wilson said there is value for dealers to stick with lenders "who stick around in tough times."
Additionally, Brodette added ENGS is actually working to develop partnerships with OEMs and dealer groups to create private-label captive solutions to ensure salespeople will have quality lending options at all times.