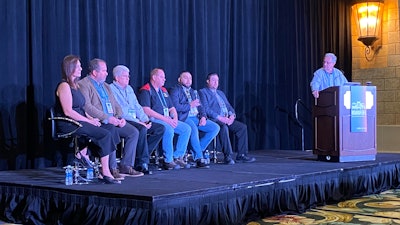 Trucking's technician shortage will not resolve itself, but effort, cooperation and investment at the local level can go a long way toward reducing its impact on your business.
During Service Opportunity Learning Days (SOLD) Wednesday at Heavy Duty Aftermarket Week (HDAW) in Grapevine, Texas, a panel of school administrators, educators and industry training experts shared their experiences on how schools and industry can work in partnership to revolutionize career technical education in a community.
ASE Education Foundation Vice President and panel moderator George Arrants says one reason why industry is vital to developing a strong technician pipeline is because, in far too many communities, vo-tech educators fundamentally don't understand how to develop a curriculum that meets the needs of the industry it is trying to support. He says most high school and community college and vo-tech administrators are hungry for industry support and actively welcome feedback, but all too often don't receive any of it.
Wednesday's panelists urged their audience to go home and change that.
With two school administrators and two vocational teachers from California's Central Valley (as well as two supplier training reps), most of Wednesday's session touched on how tremendously successful industry-education partnerships can be when everyone commits to making their community better.
[RELATED: New California high school offers blueprint to combat technician shortage]
"Our role as administrators is to find champions for our programs," says David Clark, dean of instruction, Reedley College. "We want to develop strong programs where industry wants to hire our graduates."
Fresno Unified School District's Kristen Boroski, career technical education director, agrees. Boroski was involved in the development of the landmark Duncan Polytechnical High School diesel technician program in Fresno. During that experience she learned how much financial support truly is available to educators when they gain backing from industry leaders and can show the financial and career benefits available to technicians by developing or improving an existing vocational program.
"The question always becomes who is going to be the champion for your industry?" she asks.
The panelists all say there's no reason it can't be you. The panelists say industry leaders who want to improve their local tech programs have an incredible voice for change. Clark says school administrators are generally more receptive to business professionals than their own teachers when it comes to resource allocation because industry professionals are out in the market every day. They are the people who have the job openings those schools are attempting to fill.
And educators desperately want industry input. Eric Rubio, heavy-duty truck program instructor, Fresno Unified School District, says he's constantly updating and improving his curriculum based on guidance from local industry (service providers, fleets, dealers, etc.) and manufacturers.
"We want your input from Day 1," he says. "I want to tailor our program to your needs."
"Industry can talk to our administrators and make them comfortable spending their money," adds Mike Miller, senior transportation technology instructor, Clovis West High School. "We need you to show up and show us what we should be training these students to do."
[RELATED: Building a relationship with a tech school]
That hunger for knowledge also stands out to industry suppliers and motivates them to do more to support those programs, says Brian C. Screeton, Bendix technical service training supervisor.
"We want to make sure our training is up to par [for them]," he says
Involvement with education won't just improve your service shop too. You also may change the lives of countless young people who are looking for a career and a path to a better life.
ConMet's Roger Maye says that's one thing he takes pride in when training at technical schools — "it's about just giving people the opportunity," he says. "Everybody in this room can have a role in making this better."
"My students are hungry. They want to help their family out," says Rubio. "We talk about the livable wage — but when you have an employee that has been able to change their life because they've been employed by your business: How hard do you think they're going to for you?"