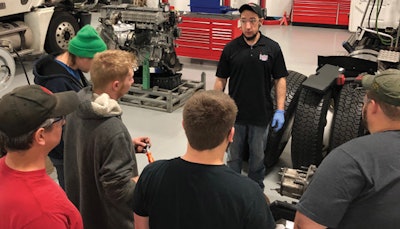 Though potential quality technicians can be plucked from anywhere, trucking's most fertile recruiting ground remains vocational and technical education programs.
Yet as demand for technicians rises, so too has competition for graduates from such programs. Many of the more than 10,000 students who will graduate from diesel and heavy truck post-secondary programs in the United States in 2019 already have job offers; some are even working as interns in the businesses they'll soon call home.
For service operations, successfully leveraging a vo-tech program as a recruitment tool now requires more than just a booth at a career fair or call to a program instructor. To ensure they can bring young technicians into their business tomorrow, many proactive service providers are learning they need to engage with their local tech programs today.
"That's been our best resource," says Charlie Nichols, general manager, TAG Truck Center — Calvert City, Ky. "We've tried a lot of different ways [to recruit] over the years. Classified ads don't work in today's world. [Online sites] didn't produce many good candidates. We've had a little success networking — where our guys have convinced friends to apply — but, overall, we are finding if we want to find a good tech, we have to grow our own."
The first step for service channel professionals looking to develop a partnership with a technical school is outreach. Industry professionals must introduce themselves to local educators and express their desire to create a mutually beneficial partnership, says George Arrants, who spent years facilitating such meetings as past chairman, ATA's Technology & Maintenance Council (TMC) SuperTech Competition.
Once a connection is made and a relationship is established, Arrants says it's the responsibility of the industry professional to maintain it. He says many educators are eager to work with trucking professionals but, like the rest of us, they're busy. He says service professionals shouldn't be discouraged if a single interaction with a tech school doesn't immediately turn into a budding partnership.
"We can't be afraid to go in," he says. "We can't avoid it because we don't know what to ask or what to do. If half of our industry just showed up [at these schools], we wouldn't be having this conversation."
"You can't give up after one bad experience," adds Brandon Eckenrode, director of development, Collision Repair Education Foundation (CREF), the technician recruitment arm of I-CAR. "It takes a lot of effort to make change."
It's early in this relationship-building phase where industry professionals should offer assistance. This can be done through donations, such as equipment and investments into a school's budget or scholarship fund, or pledges of one's time to assist the school in some way.
Arrants says most educators are looking for help any way they can get it and will accept any assistance they can find. Though he adds investments of time and expertise shouldn't be overlooked for the simpler, more straightforward monetary donation. Arrants says good educators want advice and to eliminate the disconnect between industry and education as much as anyone.
"Most schools and school districts want industry to drive the train. They want to be told what they need to do," he says.
Assisting an educational program shouldn't be a one-time deal, either. The more involved industry is in a local school, the more likely its curriculum will fit its region's needs and produce graduates capable of seamlessly entering the workforce.
Nichols says he speaks to students and educators at his nearby school nearly every semester to keep his bond with the program strong. In Fresno, Calif., Betts Company CEO Mike Betts led a group of trucking professionals who spent years engaging with the community's school district on the importance of career technical education before finally persuading the district to invest in a new facility to support a diesel and heavy truck high school education program.
Eckenrode adds many technical schools are looking for a similar level of support.
"I know a lot of instructors who are eager to bring industry into their schools," he says. "They see that as support for their program, a way to attract students and also show their superiors that their programs are important."
He adds, "A lot of these [instructors] work in fear that if they can't find more students their programs will be shut down."
That is a legitimate fear, too. ASE research shows the number of students entering vocational education programs has stalled. Experts say industry can assist in this area, supporting recruitment initiatives by education partners to steer young people into vo-tech classrooms.
Eckenrode says CREF has found success in this area by holding career fairs in conjunction with public events, such as auto shows, which are filled with car and truck enthusiasts. "It's allowed us to showcase our industry to a captive audience," he says.
Editor's Note: This article originally referenced the closure of WyoTech in 2018. The WyoTech Laramie, Wyo., campus is still open. TPS regrets this error.
---
View all the parts in this quarter's technician shortage series.