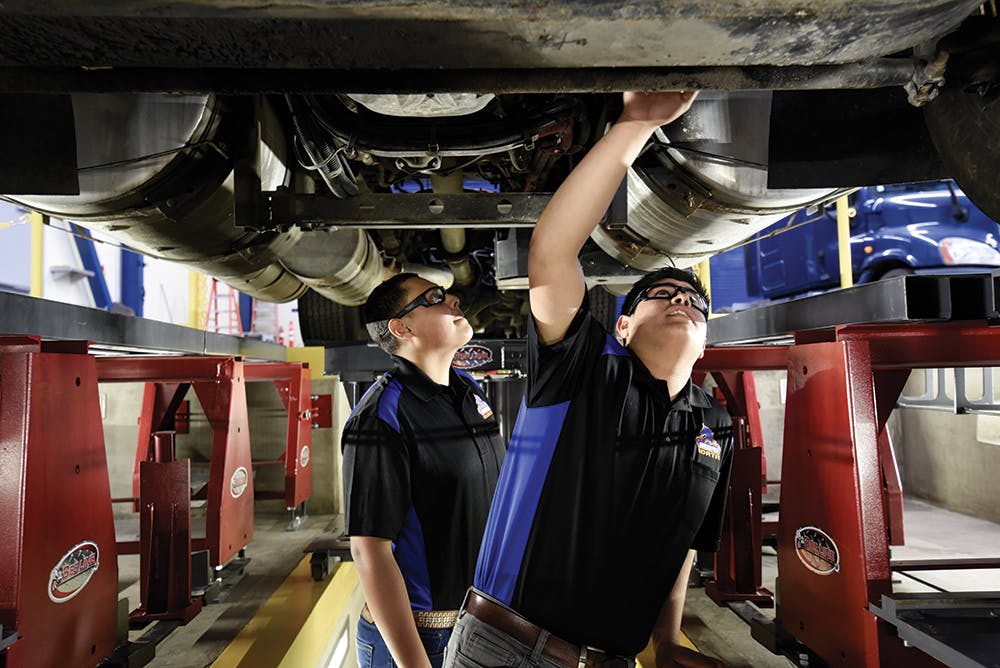 The crowned jewel of a decade-long process to bring elite technical education to central California was unveiled this spring with the opening of a diesel and heavy truck career technical education pathway at Duncan Polytechnical Career Pathways High School in Fresno, Calif.
Developed in partnership with the Fresno Unified School District, the Fresno Chamber of Commerce and the greater trucking industry of central California, Duncan Poly's new program comes complete with a state-of-the-art training facility and a curriculum to match. For those in the school district, community and trucking industry who have spent the last several years tirelessly turning their dream into a reality, the Duncan Poly diesel and heavy truck program is not just another vocational pathway available to the students of Fresno.
It's an example of what can be done when education and industry come together and how vision and determination can transform a community.
It's also a blueprint.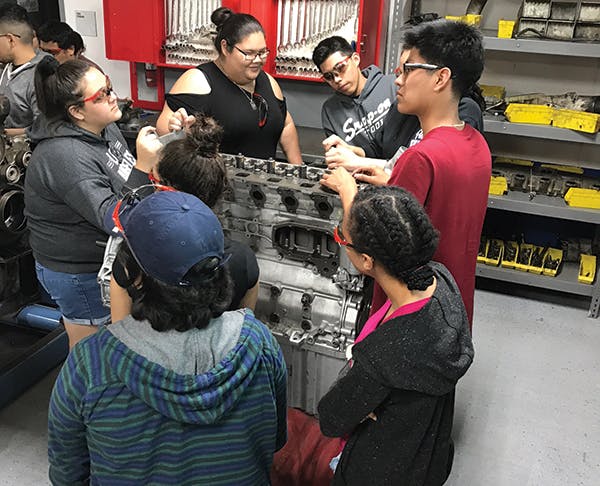 If the trucking industry is ever going to legitimately solve its technician shortage — to address its root cause, not its downstream symptoms — then the efforts of the men and women of Fresno should not be overlooked. The new Duncan Poly diesel tech program (and the other new and refurbished programs in the communities surrounding it) is the future of technical education.
"Fourteen months ago, we stood right here on this spot and you will recall it was a grassy field. Today a once-in-a-lifetime opportunity has arisen. A facility that is absolutely better than anything we ever could have imagined," Fresno Unified School District Superintendent Bob Nelson said during Duncan Poly's ribbon-cutting event in March. "This is about every high school kid having a stellar, unbelievable high school experience. And this is what our kids are going to receive."
Fresno's blueprint already has started to spread.
Just four hours south in San Bernardino, Calif., construction is underway on a four-bay training facility to support diesel and heavy truck education at Pacific High School. Berchman "Kenny" Melancon, instructor at nearby San Bernardino Valley College (SBVC), says the new building will enhance what already is a strong truck technician career pathway that exists in the community.
Thanks to a partnership between San Bernardino City Unified School District, SBVC and local industry, Melancon says high school students within the city are eligible to take Pacific and SBVC technician courses as part of their public school tuition. Additionally, he says SBVC plans to introduce a "non-credit" program in its fall semester that will allow students of all ages to take any vocational course the college offers for just $30.
Melancon says the goal of the program is to eliminate the financial barrier to technical education. Rather than asking students to pay for their training in advance of their career, Melancon says non-credit courses will enable students to earn certifications for completing courses they can then use to help gain employment. He says SBVC developed the program in response to local industry input as a low-risk way to draw talented young people into vo-tech careers.
"Our goal is [those students] will get a job and then come back and pay for the credits they've earned toward their degree," he says.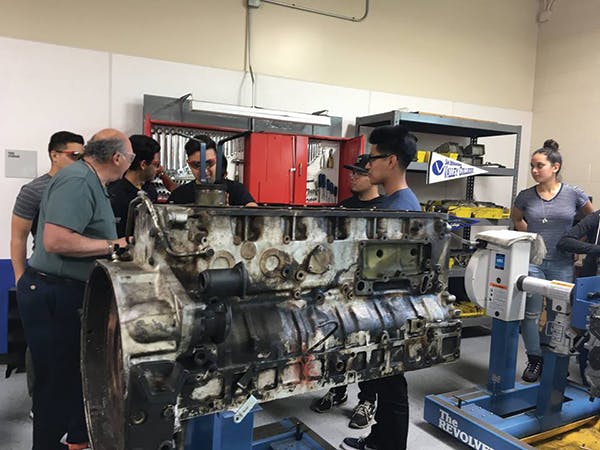 The financial commitments made by the school districts in Fresno and San Bernardino also have been backed by significant support from trucking's supplier community and service channel. The new facilities at Duncan Poly and under construction at Pacific will feature millions of dollars of trucks, engines, tools and equipment donated by industry partners. The schools also have introduced internship programs with area service centers to bolster their students' education opportunities in advance of their graduation.
In Fresno, Duncan Poly Instructor Eric Rubio says his students are taking note of that investment. Duncan Poly's program already is at capacity for the fall school year and Rubio says the school is searching for a second instructor to expand the pathway's admission capabilities.
"I think a majority of these kids didn't know what they were going to do after high school. But now they do and they've found they have a passion for it. They are really excited and ready to be challenged," he says.
"When I ask students what was rewarding to them about my class, a lot will say they will now be able to support themselves and their family," adds Melancon.
---
View all the parts in this quarter's technician shortage series.