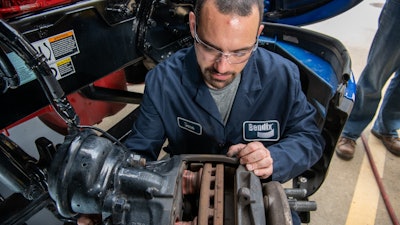 Bendix (Bendix Commercial Vehicle Systems LLC) will hold in-depth technical training sessions in Minnesota and Colorado later this summer.
The first training session will be held June 7-9 in Rosemount, Minn., at Dakota County Technical College, 1300 145th St. East. The second training will be July 19-21, in Thornton, Colo., at Adams 12 Five Star School, 1350 E. 126th Ave.
According to Bendix, the Bendix Air Brake Training class covers the description, operation, and service elements for the total range of components found within dual air brake systems. Topics include fundamentals of compressed air, tactics for air system failure mode diagnosis and troubleshooting, and air brake system and foundation brake components (air compressors, valves, foundation drum brakes, and air disc brakes).
All registrants may elect to take part in a written test administered at the close of the class. Bendix will grade the exam, and registrants earning a passing grade will receive a Tested and Passed Certificate. Those who take the exam and don't pass will receive a Certificate of Completion, as will registrants who elect not to participate in the optional testing. In-person Bendix training and the optional test are not affiliated with the U.S. Department of Transportation (DOT), and this does not take the place of any instruction or certification exam administered by the DOT.
All in-person training adheres to the latest safety, health, and sanitization protection protocols, as applicable, including social distancing and other safety guidelines. All federal, state, local, and Bendix-specific restrictions apply.
The cost for the training class, per attendee, is $450. For more information, and to register, please CLICK HERE, call 1-800-AIR-BRAKE (1-800-247-2725), or email BendixBrakeTrainingSchool@hkm.dcgcentral.com.