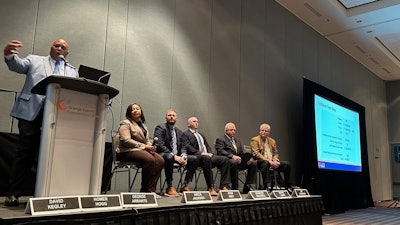 Before the panel got started, moderator Homer Hogg was careful to say that the problems they were about to tackle were for a fictitious shop.
But the problems themselves were very real.
"We talk about this technician shortage every day," says George Arrants, vice president of the ASE Education Foundation. "Do you have a shortage of applicants or a shortage of qualified applicants. Those are different problems."
[RELATED: TMC experts stress importance of testing, validation of aftermarket brake linings]
And their roots are specific to the shops and the communities they serve.
During Wednesday's panel discussion at ATA's Technology & Maintenance Council (TMC) Annual Meeting and Expo in Orlando, Arrants said that ASE accredits about 2,000 programs around the country, impacting 126,000 students. Every year, 51,000 students graduate those accredited programs, which account for about half the programs in the U.S. If the other half graduated another 20,000 students, that's 70,000 opportunities to hire a diesel tech.
But about 18% of students want to work on trucks but it's not offered in their community, Arrants said. To solve that issue, Arrants suggested more shops get involved in education.
"If you're not involved in your local programs, you are part of the problem," Arrants says.
Once the students graduate and get into the heavy-duty industry, they face another challenge. More than 40% leave in the first two years, Arrants says.
"We're eating our young," he says. "We throw these young people to the wolves and expect them to be successful."
[RELATED: Rush takes technician recruiting, training seriously]
To show just how the industry is treating new graduates, the session then moved into a problem-solving company with a fictitious bottom line and a very real retention and recruitment problem.
Dave Kegley, director of training and development at Ryder and chairman of the technician and educator committee, facilitated a five-why exercise with a panel of experts that represented a cross section of the industry. They were Arica Jackson, corporate automotive L&D supervisor for UPS; Adam Krey, Navistar dealer operations manager and S.16 vice chairman; Brandon Rockwell, vice president of truck service for the TravelCenters of America; Bryan Lewis, a consultant and ASE heavy-duty test development, as well as the 2007 and 2008 SuperTech grand champion and 2008 Tech of the Year; and Jim Johnston, IT2TI Management Consulting and U.S. Foods director of fleet management.
"The hard part to do is not to try to solve the problem," Kegley says. Instead, he says that the purpose of the five-why exercise is to find the causes of the problem. Also, when each office sets up an exercise like the five whys, it's important that the boss doesn't facilitate the exercise and that everyone leaves their title at the door.
"Every person's ideas count," Kegley says.
He then guided the panel through the exercise for a fictitious company, leading them to define a quantifiable problem statement and then to consensus for both that statement and for each why. The goal, Kegley says, is to get a variety of comments from everyone and get the leadership team to open up and talk.
Hogg also showed a fishbone model of analysis and discussed management and leadership. Leaders, he said, lead people. And what this situation needs is great leadership.
"The word is partnership," Hogg says. "We can solve this."