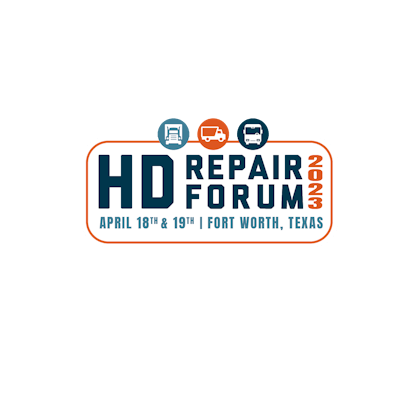 The HD Repair Forum is gearing up for one of its largest events in the program's history.
Scheduled for April 18-19, in Fort Worth, Texas, HD Repair Forum organizers say early registration numbers are higher than normal driven by a session line-up that covers topics such as addressing the technician shortage, improving profitability, and handling new vehicle technology during repair.
"We are also very excited to announce two new OEMs, who are participating for the first time this year," says Jennie Lepore, HD Repair Forum's Communications Director.
Organizers say MCI representative Tim Barnes will take the stage on April 18 to discuss how to access repair information, find parts, and share opportunities for engagement with the OEM. Also presenting on the main stage on April 19 is Prevost's Robert Hitt, who will explain the advanced driver assistance system (ADAS) features common to their latest vehicles and underscore proper repair.
[RELATED: HD Repair Forum finalizes 2023 event program]
Additionally, organizers say Navistar will continue its long standing involvement with the forum and deliver information about new vehicle technology. Component suppliers like Bendix, whose ADAS technologies are embedded within a wide range of vehicle makes and models, will supply attendees with need-to-know education that will help prepare the industry for more complex repairs. And 3M, AkzoNobel, Axalta Coating Systems, Evercoat, I-CAR, PPG, and TEXA will also deliver educational seminars throughout the two-day event.
Forum organizers says their support of the market and year-around efforts to provide solutions for the industry has been pivotal to improvements in the marketplace. To see the full agenda go to www.hdrepairforum.com/agenda.
"We are encouraged by the level of engagement from so many of the industry's leaders. As the market continues to evolve there is an even greater need for collaboration among stakeholders, and the HD Repair Forum is the perfect conduit," says Brian Nessen, co-founder of the HD Repair Forum.
Registration for the event is open and provides attendees with discounted hotel rates at the Hilton Fort Worth. To access registration and gather more information go to hdrepairforum.com/event-registration/