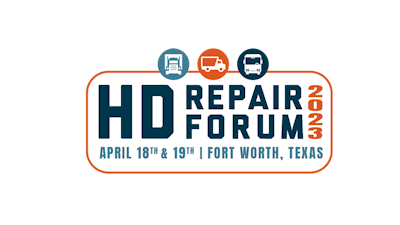 Organizers of the 2023 Heavy Duty Repair Forum have finalized the educational sessions, topics and issues it will cover at this year's conference in Fort Worth, Texas.
Set for April 18-19, the HD Repair Forum serves to support the betterment of the heavy-duty and medium-duty collision repair industry. Opportunities for industry engagement, networking, and business leadership are supplemental assets of the event, organizers say.
Session topics for this year include finding and growing technicians, new vehicle technology, motorcoaches, emergency vehicles, alternative fuel vehicles, ADAS systems, marketing your business, adapting to the shifts in the collision industry post-covid, and much more. The complete agenda will be released next month.
"Direct access to peers, business partners, and industry education is a valuable takeaway for our constituents," says Brian Nessen, co-founder of the HD Repair Forum. "Important conversations and solutions to this industry's challenges are made during the HD Repair Forum, and we are looking forward to providing the industry with this valuable time again in 2023."
Organizers say collision repairers, insurers and appraisers of vehicles ranging from Class 4-8 will join OE and component manufacturers as well as equipment and service providers for this unique opportunity to hear up-to-date information on medium- and heavy-duty vehicles and their repair challenges in today's market.