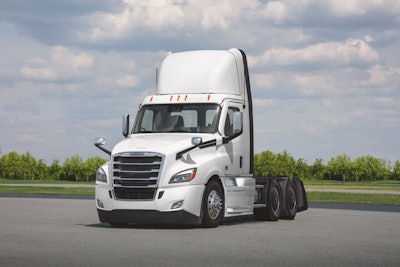 Uptake and Daimler Truck North America are working together to optimize vehicle maintenance, the companies announced.
[RELATED: DTNA Parts Director to discuss 2023 market outlook at HD Aftermarket Dialogue]
DTNA will use Uptake Fleet, a predictive maintenance and work order analytics technology, to analyze subsystem sensors and work orders, predicting vehicle problems and recommending corrective action before repairs, delays or breakdowns.
""Trucking companies are facing unprecedented challenges today, from delays in acquiring parts to labor shortages and rising repair and maintenance costs," says Uptake CEO Kayne Grau. "Since its inception, Uptake has been focused on connecting data, assets and operators. Our agreement with DTNA will provide our customers and partners with even more data-driven insights to ensure fleets are fully operational, safe and reliable."
Uptake says it will use 65 data-science models to help DTNA customers minimize unplanned maintenance events, along with real-time intelligence on vehicle performance. Operators use predictive maintenance to buy only the parts they need when they need them, the companies say, tailoring repair schedules to individual vehicles based on actual usage.
"Daimler Truck North America is committed to using cutting-edge technologies so our customers can get the longest and most impactful life from their vehicles," says DTNA's Sanjiv Khurana. "It is encouraging that Uptake is exploring new ways of leveraging data to optimize the performance of our trucks, and we are excited to explore the potential this brings."