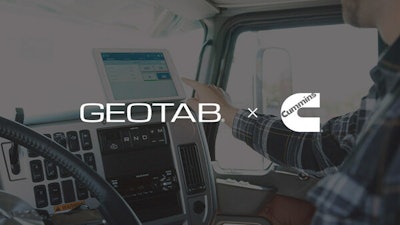 Geotab announced a series of updates and enhancements to its product offering this week during Connect 2023, Geotab's premier annual event.
One major update is Geotab's intent to enable Over-the-Air (OTA) connectivity for Cummins Engine Control Units (ECUs) through Geotab's GO9 device. Geotab says OTA software updates will be sent directly to Cummins ECUs through Geotab's GO9 device, providing multiple benefits for fleet customers and OEMs:
Optimal Engine Efficiency and Performance: OTA software updates provide access to the latest Cummins software allowing customers to ensure their vehicle's ECU is running at peak performance.
Less downtime waiting for updates: Connected Software Updates can update engine software in less than five minutes. OTA software updates eliminate the need to perform calibration updates at service locations allowing users to update software when and where it is most convenient.
Safe and Secure: OTA engine software updates utilize a two-step approval process ensuring safe and secure installation.
"The Geotab and Cummins integration for over-the-air connectivity can save fleets time and money, while affirming uncompromised performance and security," says Scott Sutarik, vice president of Enterprise Solutions at Geotab. "Connected Software Updates ensure that our customers with Cummins engines are taking advantage of the latest genuine Cummins firmware, ensuring peak performance and innovation."
[RELATED: Cummins offers update on Meritor integration]
"This is a great next step in our growing relationship with Geotab to deliver the latest technology and capabilities to our common customers," adds José Samperio, executive director, North America On-Highway at Cummins. "It offers scalability and convenience, allowing fleets the option to automatically deploy updates to their entire fleet in an efficient manner."
Geotab's Integration with Cummins Connected Software Updates will soon be available for select Geotab devices and compatible Cummins engines. Additional availability will be offered later this year.
Other updates announced during Connect 2023 include the release of Data Connector, an integrated intelligence tool designed to help fleets address rising operating costs, supply chain, talent and regulatory pressures.
Leveraging its deep data science and engineering expertise paired with its 22-year understanding of fleet customer needs, Geotab says has curated specific data sets and made that data accessible through a simple, "no-code" integration with a customer's preferred business intelligence tool, such as PowerBI, Tableau or Excel.
Geotab-curated data sets can then be integrated with customer fleet data from other sources such as maintenance or accounting systems, enhancing data analysis and automated reporting capabilities, the company says. Data Connector also includes report templates to quickly translate a fleet's curated data into impactful insights, while helping to develop customer reporting dashboards, Geotab says.
"Collaboration with our fleet customers uncovered an opportunity to bridge a gap that brings the insights from connected vehicle data into popular BI platforms in order to provide fleets with the ability to access, analyze and report meaningful data insights that matter most to their business," says Mike Branch, vice president of Data and Analytics at Geotab. "Using Data Connector will prevent the siloing of data in organizations, breed more trust, and allow the right business stakeholders to have access to the data in a BI platform they're already familiar with - which is ideal for all customers, but especially those with limited data management capabilities who would otherwise have to find ways of extracting this insight on their own."
Finally, Geotab also released its new electric vehicle (EV) range analysis, examining the impact of speed and temperature is now available on the Fleet Electrification Knowledge Center. The interactive analysis, showcased for the first time at Geotab Connect 2023, uses de-identified, aggregated data from 3 million EV trips and 550,000 hours of driving time to better understand the relative range impact of temperature and speed.
Geotab states building confidence in EV range is critical for widespread adoption. The analysis enables users to explore two significant factors that impact range, namely outdoor temperature and a vehicle's drag at different speeds. Understanding the functional range of an EV helps increase confidence that vehicles are operating efficiently and that the right vehicle is selected for the job and present conditions. The analysis compares the range of two vehicle body types by modeling an electric sedan and a light cargo van, both adjusted to represent a 65 kWh battery.
From the analysis, Geotab observes the speed at which vehicles drive influences the relative impact of temperature. At low speeds, temperature can significantly impact range, and at higher speeds, temperature becomes much less relevant. The size and shape of the vehicle also influence the optimal conditions to maximize EV range, and larger vehicles lose range more quickly with increased speed.
These insights reveal the best strategy to optimize EV range should consider the context of the trip. For a highway route, avoiding speeding will be the best strategy to conserve range, especially for larger vehicles. For slower routes, there will be more seasonal variability in range, so mitigating the impact of temperature will have the best results, the company says.
"Electrification is an important component in reducing carbon emissions in fleets. To help businesses feel confident about integrating EVs into their fleet, Geotab provides exceptional data insights that support informed decision-making," says Charlotte Argue, senior manager of Fleet Electrification at Geotab. "Backed by real-world EV data, the analysis is intended to be used as a resource to help educate users on factors that impact EV range and build awareness of strategies to optimize EV deployment."